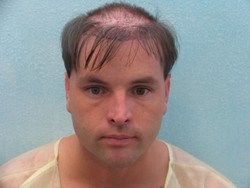 Video example of a bad hair transplant result that was repaired using "The umar Procedure" for FUE and BHT. According to the patient after his repair was completed by Dr Umar: " If it were not for BHT, this repair would not have been possible"
Los Angeles, CA (PRWEB) February 15, 2010
Individuals suffering from the effects of a bad hair transplant now have a new option for hair restoration from Dr. Sanusi Umar, a Los Angeles cosmetic surgeon and board-certified dermatologist. Internationally known for his repair of some of the worst outcomes of hair transplant surgery, Dr. Umar offers the new procedure of Body Hair Transplant (BHT).
For half a decade, Dr. Umar has used BHT to repair many poor hair transplant cases previously believed to be hopeless. Many of his patients had procedures performed decades ago, when advanced options for hair restoration were unavailable. Disfigurement and scarring from older hair restoration techniques can cause anguish for hair loss patients, leading many to avoid social interaction and live secluded lives under hats and hairpieces.
Dr. Umar performs hair restoration repairs using BHT, which involves the transplantation of scalp and non-scalp body and beard hair to balding areas of the head. Therefore, even severely bald individuals with extremely poor hair surgery outcomes and a depletion of traditional scalp donor hair can achieve a cosmetically acceptable restoration.
Conventional hair transplant methods involve the removal of strips of flesh from the back and sides of the head which result in linear scars that wrap around the back of the head from ear to ear. The process by which Dr. Umar performs BHT is linear scar free and involves Single Follicle Extraction and Transfer (SFET), or the "Umar Procedure," a more advanced version of the procedure known as Follicular Unit Extraction (FUE). With SFET-FUE, hairs are transplanted one at a time in the most natural fashion. Having personally experienced the devastating consequences of poor scarring from conventional hair transplants he underwent in the 90s, Dr. Umar set out to find a solution. The result is SFET, a minimally invasive procedure that is performed using a knife-free, micro-surgical technique allowing hair to be removed from the head, face and any part of the body with no cosmetically significant scarring.
One patient Dr. Umar helped had previously lost his donor hair supply after multiple antiquated scalp surgeries, leaving him still bald, but now with many disfiguring scars, as well. His prior surgeries included multiple scalp reductions, strip and punch hair transplants, with the creation of unnatural plugs in the frontal scalp and hairline. The patient had ridging and pitting result from these "pluggy" transplants, and his temples and half of his head were devoid of hair from the progression of hair loss and excessive scalp reduction. The crown became deformed to form a slot with abnormally angled hair fanning out from it.
Dr. Umar carried out the hair restoration repair using about 15,000 chest, stomach and shoulder hair grafts, 6,000 beard hair grafts and about 1,000 head hair grafts. The result of Dr. Umar's repair was recorded six months after the last repair session. With even more improvement expected, the patient stated that he had already "gotten his smile back." Two years after the beginning of his repair with Dr. Umar, the patient expressed:
"I personally believe Dr. Umar is the only one who could have achieved my transformation. I'm near the end of my process and need to give it time for the last of my surgeries to flourish. For all those out there who have given up hope, I can tell you that Dr. Umar's work is real and that few of you will ever be in as bad a condition as I was. If it were not for BHT, this repair would not have been possible.
"I cannot begin to describe how hard he worked on me, but everyone can see the results thus far. I will be forever grateful to Dr. Umar."
Dr. Umar has also used the BHT method to repair the poor transplant results of a second individual, who also sustained damage from poor and botched hair surgeries performed at other clinics. After speaking with others who had successful BHT repairs done by Dr. Umar, the patient decided to undergo BHT.
Dr. Umar carried out the BHT surgery using 2,000 beard hairs and 8,000 hairs from the stomach area, arms, legs and thighs. In his testimonial, the patient states:
"Although my prior odd appearance was not career-limiting, I feel like a new person. I cannot say how this procedure would work on others, as it is in its infancy and data on many individuals have not yet been published. But, as a patient and a physician, I felt like I did my due diligence by approaching a terrific and committed physician (Dr. Umar)."
According to Dr Umar: Not everyone is a good candidate for BHT. Some people do not have the appropriate amount of body hair, while others have unsuitable body hair characteristics.
The procedure is permanent and results are realized within approximately 12-18 months; follow-up is minimal and patients are typically released after one to two years.
For more information about Dr. Umar and his revolutionary hair transplant and hair restoration procedures, visit http://www.dermhairclinic.com or call 310-318-1500.
About Dr Umar:
Dr. Umar is considered the top BHT hair surgeon in the world. Since perfecting his SFET procedure, he has performed many successful reparative hair transplants with FUE and BHT. He is a pioneer in FUE and has invented the tools he uses to perform the procedure. His practice is at the DermHair Clinic located in Redondo Beach, Los Angeles, California.
Contact to discuss editorial matters:
Sanusi Umar, MD FAAD
Phone: 310-318-1500
# # #