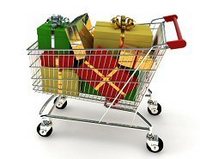 London (PRWEB) November 20, 2010
The end of the year holiday season always inspires the busiest shopping of the year, even during a recession when consumers have having trouble coming up with cash to pay for gifts, festivities, or holiday vacations. That's why many people are planning ahead by taking out bad credit loans.
Over the Internet, for example, UK shoppers will spend approximately £537million this year, according to The Guardian. That's more than £22 million per hour, and during the Manic Monday madness of November 29th sales volume is expected to be nearly 30 percent higher than what was rung up this time last year. Then on the 18th of December about 10 million Brits will queue up at cash registers and spend more than a billion pounds - or nearly a million pounds per minute.

A large amount of that spending will go on credit cards like MasterCard and Visa, and consumers will also be loading up on debt by using their plastic to buy restaurant meals and pub drinks during holiday festivities.
That all adds up to one colossal hangover looming once the party is over and 2011 arrives - along with those fat credit card bills. The average rate on most credit cards is now about 16 percent, too, with many cards charging rates as high as 25-29 percent.
There are even prepaid credit cards for people who have bad credit that wind up costing as much as 40, 50, or 60 percent interest once the application fees and other charges are factored into the equation and added to the steep APR interest rates.
There is nothing more depressing and discouraging than entering a brand new year with tons of nagging debt, especially from credit cards that can suddenly get exponentially more expensive when a cardholder is late with just one payment. But this year it is especially difficult to figure out how to budget for those November and December expenses.
Consumers would also like to know how to access some extra money to take full advantage of the great discounts and savings that are offered during sales that coincide with the coming of a new year. Some shoppers - including those buying equipment for small businesses - intentionally wait until the end of the year to buy those high-ticket items like televisions, appliances, and computers just so they can get the best possible prices.
But a hassle-free short-term bad credit loan can raise some fast spending money before the window of opportunity closes and the sales bargains all vanish.
Loans for people with bad credit come in a wide variety of products including everything from car loans to cash advance loans and debt consolidation loans.
But what they all have in common is that they are relatively easy to get because they are tailored to people who have lower credit scores or just plain bad credit.
The lenders do not overly scrutinise one's credit history because they are in the business of granting loans to people who have already been turned down by conventional banks or discouraged by the rules and high rates charged by other kinds of lenders.
Because they work in ways that favor people with bad credit they generally have a much shorter application processing - which means the money is there in a dependably fast timeframe. The applications themselves are also quite simple and much less probing and personally invasive.
To learn more about Loans For Bad Credit or to obtain a loan quote online, simply visit our website or contact one of our representatives.
###