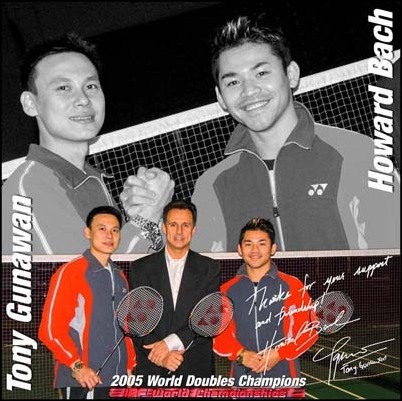 San Diego, CA (PRWEB) July 31, 2006
HUBMAXMEDIA announces the launch of badminton-chronicles.com. HMM is owned by Jean-Pierre D'Zahr and Roy Hemmat. Given that Jean-Pierre has been playing tournament level Badminton since his junior years he is intimately involved and understands the need for a comprehensive Badminton Portal. If you love the game of Badminton then this could be your virtual Badminton Court.
We offer thousands of Badminton links and articles which also include daily Badminton News on every page within our portal. Some of the highlights of information we've gathered is that it allows users to find a place to play Badminton anywhere in the world. For example, we have over 500 cities in the USA listed where to play Badminton. We also include places to play in Canada, Europe and Asia.
We offer Badminton Tournament Photo Coverage, World Class Tournament Videos, and Video Interviews with top players. The best is yet to come as we also accept links to Badminton web photo galleries from anyone wanting to submit their links or articles to our portal.
One of the unique features of the portal is the cataloging of National, International and World Class players' names from today and also past top players. You can find players from any country in the world and see what information we've gather about that player. If someone is not listed with us, then anyone can submit a list of players or submit just one individual player for insertion into our database. The only requirement is that these players must have won at least a medal at the National level of their country. This includes the Junior Nationals, Senior Nationals, and Open Nationals.
Do you need to know the current Badminton World rankings? We've got the latest links to who's on top and how they stand.
Of course if you are a novice and have a passion for Badminton, this is also the place to find out about Badminton history, forums, rules, tips and articles to improve your game.
We also realize that Badminton players need and want the very latest in Badminton rackets, shoes, shuttles and apparel, so we feature daily ads from our sponsors on every page in the right column to assist Badminton players with their purchasing needs. We want to encourage you to visit the sponsors as this is our only form of revenue which helps pay for maintaining this portal.
We're planning to keep this portal very unique, so in the coming months you'll see Badminton in ways that have high impact and creativity to keep your interest and keep you involved with us so you can ALL join in to be recognized.
Badminton is a life-time sport, and most people play with passion. We understand passion, and this portal expresses our passion for Badminton. Feel free to make suggestions and offer your input at anytime. We want to hear from you.
If you are a Badminton supply vendor and want Ad banners on our portal please contact us for information on rates and services we offer.
###