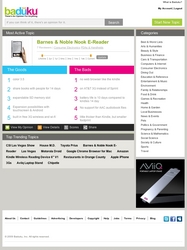 What Twitter is to blogs today, Baduku.com is to review sites, and the true power in it is that you can make decisions quickly and gauge public opinion in real-time.
Santa Ana, CA (PRWEB) December 11, 2009
Baduku, Inc. announced today, it will be launching it's open beta December 10th. Baduku.com is an opinion engine utilizing real-time socially ranked micro-opinions (50 characters max opinions) to help people make quick informed decisions, and gauge public opinion in real-time. Baduku.com lists brief user generated opinions about any topic, and uses its unique suggestion system that allows it to rank opinions by overall consensus.
"For many people, traditional review websites require too much effort to use effectively. Today's society wants more reliable opinions in a quick and concise format and that's exactly what Baduku.com achieves with its suggestive micro-opinion system. Also Baduku.com's date ranging feature allows users to review opinions collected within a user defined segment of time. What a person think of something today may change drastically a year from now and Baduku.com is the best system for measuring that change." said, Namanh Vu Hoang, Chief Executive Officer of Baduku.com.
During the Beta, Baduku.com will allow users to register on the website and begin both reviewing and contributing opinions on topics. Baduku.com will continue implementing enhancements during this phase which includes features such as Facebook Connect, affiliate network services, sharable user-defined topic list and other mobile applications.
Baduku.com was recently demoed at TechCrunch's Real-Time CrunchUp at San Francisco's InterContinental Hotel on November 20th, 2009 by co-founders Namanh Vu Hoang and Patrick Chang, where it was well received by the tech and social media community. According to Chief Technology Officer of Baduku.com, Patrick Chang, "Unlike other review sites that are exclusively product focused or limited to places and activities, Baduku.com's open topics format provides a forum of discussion for topics such as health, law, politics and popular culture, which would have otherwise been completely neglected by traditional review websites."
Baduku.com founders, Namanh Vu Hoang and Patrick Chang are long time friends and both University of California, Irvine alumni. Namanh Vu Hoang was previously the Creative Strategist for Orange County think tank, Crisp Brand Agency. Patrick Chang is co-founder of Orange County based web development firm Omatik.net.
# # #