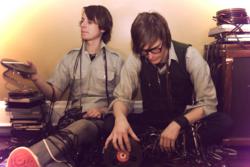 Cincinnati, OH (PRWEB) February 14, 2012
Cincinnati's favorite sons Bad Veins will return home to release their highly anticipated album at the new Ballroom at the Taft. The Mess We've Made will be available to purchase at this show, several days before it's available in stores.
General admission tickets, $12 advance & $15 day of show (plus applicable fees) go on sale this Friday February 17th at 10 AM at http://www.ticketmaster.com, http://www.tafttheatre.org, the Taft Theatre Box Office and all Ticketmaster outlets including select Kroger stores. Charge by phone at 1.800.745.3000.
Cincinnati duo Bad Veins is set to release their highly anticipated new album The Mess We've Made on April 24th via a new deal with Austin, TX's Modern Outsider Records. The new album was recorded over a three month period at Audiogrotto, a church turned recording studio, in Newport, Kentucky and is the follow up to their breakout self-titled debut album that was released on Dangerbird Records in 2009.
Bad Veins – Benjamin Davis (vocals, keyboard, guitar, etc,) and Sebastien Schultz (drums) – formed in 2006 and quickly gained widespread buzz even before they released an album due to their legendary live shows. The duo takes the stage in pseudo-army uniforms with Seb thrashing with the enthusiasm of 2 punk drummers on his kit and Ben crooning stilly on his mic. They are joined on stage by a vintage megaphone, a reel-to-reel tape player nicknamed Irene (often counted as the third band member), and a telephone where another mic should be.
Their incredible live shows led them to NYC for the CMJ Festival in 2007 where Bad Veins were considered one of the breakout bands for that year. It was that same year they started crisscrossing the US, relentlessly performing and building a cult following among fans and critics alike. In 2008 Bad Veins won the first ever "Target Music Maker Award" at the Tribeca Film Festival and soon after they earned themselves spots touring with a variety of noteworthy artists including Frightened Rabbit, We Were Promised Jetpacks, Maps & Atlases, Two Door Cinema Club, and more.
In addition, their self-titled debut album released in 2009 won numerous accolades. Dan Harris of ABC Amplified picked the album as #7 in the "Best Albums of 2009" and wrote that Bad Veins were "criminally under-appreciated." USA Today's Pop Candy called the album's closing track "Go Home" one of the Top 20 Songs of 2009. Also, the lead single "Gold and Warm" was the music for a video segment on Good Morning America called "Your Three Words" and the song is going to be featured in the upcoming blockbuster film Chronicle – out February 3rd via 20th Century Fox – and in the official soundtrack.
For at complete list of Taft Theatre shows visit: http://www.tafttheatre.org
Contact:
For Bad Veins: Sue Marcus | Sue(at)stuntcompany(dot)com | 718.222.8963
For Taft Theatre: Rick McCarty | Rmccarty(at)memi(dot)biz | 513.977.1087
###