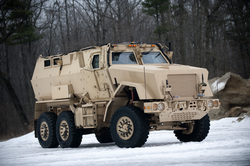 The cost-effective Caiman MTV features a wider wheel base and more robust independent suspension and powertrain systems to navigate Afghanistan's harsh terrain.
Houston, TX (PRWEB) February 18, 2010
BAE Systems recently completed two successful demonstrations of the Caiman Multi-Theater Vehicle (MTV) before U.S. military leaders. A new version of the combat-proven Caiman Mine Resistant Ambush Protected (MRAP) vehicle, Caiman MTV is designed for multiple theaters of operation and, specifically, the end strength transition from Iraq to Afghanistan.
The cost-effective Caiman MTV features a wider wheel base and more robust independent suspension and powertrain systems to navigate Afghanistan's harsh terrain. With the perfect combination of interior capacity, tactical mobility and survivability, the Caiman MTV can be rapidly fielded to meet emerging, specialized requirements, including Command and Control On-the-Move, ambulance and troop transport. The new Caiman configuration can be delivered either as a new vehicle or chassis upgrade.
Quick facts:

More useable interior volume under armor than any fielded MRAP is ideal for specialized vehicle requirements based on lessons from Afghanistan
Provides all-terrain mobility with 6x6 soft-soil advantage
10-man crew capacity for troop transport missions
Supports a four litter system with attendant
Features a scaled-up Independent Suspension System from Arvin Meritor
5-ton HVAC temperature control system provides optimum climate control to protect soldiers and critical computer equipment from hot and cold extremes
95 percent commonality with tactical wheeled vehicle National Stock Numbers already fielded in support of Operation Enduring Freedom means parts are available in theater
Demonstrations and events:

BAE Systems first demonstrated the vehicle to Army leaders on January 26 at Michigan Proving Grounds.
The vehicle's second demonstration occurred February 10 during the Nevada Automotive Test Center (NATC) Vehicle Systems Demonstration Technology Rodeo in Carson City, Nevada.
The vehicle will be on display at the Association of U.S. Army's Winter Symposium in Fort Lauderdale, Florida February 24-26, 2010 at booth #2521.
Quotes:
Dennis Morris, president, BAE Systems, Global Tactical Systems
"The Caiman MTV performed extremely well during its recent demonstrations in Michigan and Nevada. We are now in a position to field this platform very rapidly and support critical troop level increases in Afghanistan while being sensitive to extreme defense budget pressures."
Chris Chambers, vice president and general manager GTS Programs
"As the requirements for MRAPs increase, the Caiman MTV is an essential solution designed to meet the tactical mission requirements in Afghanistan. With the most armor-protected useable interior space than any other MRAP, coupled with its all terrain mobility, this vehicle can handle both the extreme terrain and environment of the Afghan theater, and the evolving threats our soldiers face there."
Multimedia Resources:
Caiman MTV videos: YouTube Playlist
Caiman MTV images: Flickr Set
# # #
About BAE Systems
BAE Systems is the premier global defence, security and aerospace company with approximately 107,000 employees worldwide. The Company delivers a full range of products and services for air, land and naval forces, as well as advanced electronics, security, information technology solutions and customer support services. In 2009 BAE Systems reported sales of £22.4 billion (US$ 36.2 billion).