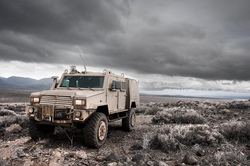 The 4x4 RG Outrider offers a cost-effective approach to the enhanced protection, demonstrated mobility and payload capacity required to effectively navigate Afghanistan's harsh terrain.
Houston, TX (PRWEB) February 23, 2010
BAE Systems gave U.S. military leaders the first look at the RG Outrider recently at the Nevada Automotive Test Center – a light armored vehicle designed to meet the needs of U.S. special operations and coalition forces operating in Afghanistan.
Based on the RG series of light tactical vehicles originally designed and developed in South Africa, the 4x4 RG Outrider offers a cost-effective approach to the enhanced protection, demonstrated mobility and payload capacity required in Afghanistan.
Quick facts:

RG Outrider employs the same proven mobility, agility and ground clearance as its predecessor, the RG32M, which is currently in service in Afghanistan.
RG Outrider is effective against mine and IED threats and has high level ballistic protection.
It weighs less than 10 tons and features a widened hull and newly designed load bay that is ideal for command, liaison and scouting roles. The load bay is also easily reconfigured to customer required missions.
RG Outrider provides advanced protection through its V-shaped monocoque hull, comprehensive steel welded armor and added side-blast protection.
RG Outrider uses commercial-off-the-shelf technology and an existing international parts distribution network to minimize crew training and logistics.
Demonstrations and events:
•BAE Systems demonstrated the vehicle on Feb. 10 during the Nevada Automotive Test Center (NATC) Vehicle Systems Demonstration Technology Rodeo in Carson City, Nevada.
•The vehicle will be on display at the Association of U.S. Army's Winter Symposium in Fort Lauderdale, Florida Feb. 24-26, 2010 at booth #2521.
Quote:
Dennis Morris, president, BAE Systems, Global Tactical Systems:
"Based on the successful RG series in service with several forces in Afghanistan including the U.S., Sweden and recently Spain, the RG Outrider is a versatile, light armored vehicle designed for first response situations and extreme off-road driving to meet special operations needs. A true all-terrain vehicle, the RG Outrider provides crew survivability and reliability to complete the evolving missions of today and tomorrow."
Multimedia Resources:
RG Outrider Videos: YouTube Playlist
RG Outrider images: Flickr Set
About BAE Systems
BAE Systems is the premier global defence, security and aerospace company with approximately 107,000 employees worldwide. The Company delivers a full range of products and services for air, land and naval forces, as well as advanced electronics, security, information technology solutions and customer support services. In 2009 BAE Systems reported sales of £22.4 billion (US$ 36.2 billion).
###