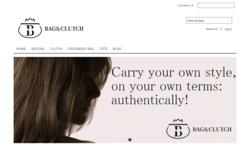 London, UK (PRWEB UK) 8 January 2013
Bag&Clutch is the new online retailer that provides fashion savvy women with an ever-changing selection of fashionable handbags at the best price. To enhance exclusivity, Bag&Clutch adds a brand new handbag to its store every day and sells only limited quantities of each item (no more than 5 units per model), allowing all fashionistas to indulge in an exclusive shopping experience.
Created with the firm belief that all women should feel the true unadulterated gorgeousness that comes from one's ability to define herself authentically, Bag&Clutch's goal is to facilitate confidence and authenticity by granting women everywhere the freedom to choose how to express their individualism through style.
Fashion savvy handbagistas can log on and easily shop from a wide ever-changing selection of handbags including satchels, clutches, crossbody bags and totes. But Bag&Clutch is much more, it is a community of women who share their passion for fashion. As such, through its social network footprint and fashion blog, Bag&Clutch is also a worldwide fashion hub where people can share their thoughts and ideas on the newest trends which, in turn, inspire new fashionable product releases that suit each individual taste.
About Bag&Clutch:
Bag&Clutch is an online retailer that provides fashion savvy women with a wide range of affordable handbags, adding one new handbag to its store every day but in very limited quantities.