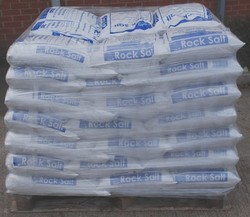 Ormskirk, UK (PRWeb UK) October 10, 2009
The largest user of rock salt by far is the highways agency which has the responsibility to ensure major roads and motorways are kept clear of snow and ice. However, when supplies ran low last winter this left businesses, hospitals and schools in a desperate situation unable to keep their premises free of ice. With today's litigious society they were left with the difficult decision to make, either close or risk being taken to court for a personal injury claim.
This year Online Rock Salt has pre purchased 10,000 tonnes of salt with the option to buy more should the need materialise. Rock salt is currently being bagged up ready for the season. A large Investment has been made in a robotic packaging plant which means Online Rock Salt can guarantee to have 2000 tonnes of bagged salt in stock ready to go out for delivery at any time.
No matter how harsh the coming winter is Online Rock Salt can handle consumer demand for bagged rock salt.
About Online Rock Salt:
Online Rock Salt is based in Lancashire and has an advanced distribution network allowing most of the UK to be served on a next day basis. The first company to launch a website featuring online ordering of rock salt it has grown rapidly based on a strong reputation of customer service and next day deliveries.
For more information please visit the website Online Rock Salt or contact Ian Mercer on 01695 425 038
###