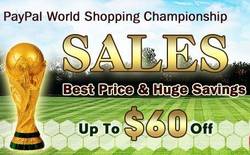 This great soccer carnival is bringing us a perfect ride; huge waves are likely to rise among young people who love chasing after fashion trends.
New York, NY (PRWEB) July 8, 2010
BizArk is a promising e-commerce solutions provider, offering business solutions to various brands; bagsok.com, a bag online shop operated by BizArk, joins the PayPal World Shopping Championship which began at the beginning of June and in which net users will have the chance to win the most popular product by supporting their favorite teams. As a part of business solutions, BizArk has taken an active response to Paypal's call, and supports bagsok.com in joining the championship, providing customers as much as $60 off from May 17th to July 31st.
The World Cup has been the hottest event for both sports fans and businessmen, not only providing great soccer matches but also a powerful weapon for brand marketing. As an expert of providing marketing solutions, BizArk seized this chance to help its partner bagsok.com take off in the online business world.
Bagsok.com is one of the most popular online stores where a great variety of brand handbags for trendy girls and women are available. During the 2010 World cup, Bagsok has teamed up with BizArk and the Paypal World Shopping Campaign so as to make good use of this grand sporting event to extend its brand influence.
Ning Chou, the CEO of BizArk shared his opinion on this marketing strategy. "This great soccer carnival is bringing us a perfect ride; And according to the sales record of the first month, huge waves are likely to rise among young people who love chasing after fashion trends. What's more, we've decided to continue cooperation with bagsok.com to help expand their market further."
Brenda Law, a regular customer of online shopping, said she's been crazy about the 2010 World Cup. "I am a soccer fan and I love to collect cool gadgets featured with the World Cup, players' uniforms, souvenirs from South Africa, even stationery with soccer prints. Now I found that online stores are offering the same thing and my friend said she had already bought a bag and saved almost $50. It rocks. I want to have a try myself, since the discount is really attractive."
As BizArk pointed out, the World Cup is not only about soccer any more. In fact, it has become the perfect marketing moment for almost every brand, wherever they are, whatever they produce. This marketing strategy is a common secret in this global village. The World Cup brings out millions of enthusiastic soccer fans, hot soccer babies and shining superstar players, and in consequence, any brand that is connected with it would appear on the top searching list. For instance, brands as famous as McDonald's and Coca-Cola even get involved. As statistics provided show, McDonald's has spent over $60 million on the 2010 World Cup and this number keeps increasing. That also explains why BizArk is making every effort to seize this chance.
However, the real thing that should be taken into consideration is to create an innovative and independent way for brand marketing. Only brands that have been holding fast to the most suitable marketing solutions can conquer the hearts of global consumers. The 2010 World Cup will finally come to an end, but the battle in the business world won't.
About Bagsok.com
Bagsok.com is an online bags store devoted to Fast Fashion concepts in the bag market by providing continuously updated quality classic and trendy handbags, luggage, business bags, etc. The extremely low prices of $9.90 let customers enjoy value added products. Bagsok.com is one of the online stores operated by BizArk.
About BizArk Service Ltd.
BizArk is an international trading company that provides all-in-one E-commerce solutions & services for online stores, specializing in website construction, network marketing, website monitoring & security as well as support service.
###