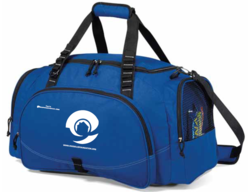 These families don't choose the situations they're in, therefore they can't always control their financial situation. -Eric Newman
Santa Ana, CA (PRWEB) February 01, 2012
With 16,000 children diagnosed with or relapsing from cancer each year, Eric and Roc Solid are pushing to "connect with every single patient." That is no easy task as it would cost around $6.4 million dollars to secure the custom imprinted duffel bags and the great items that go inside.
Bagwarehouse and Roc Solid are ready for the challenge and it is clear that Eric Newman is fully committed to take the Roc Solid Ready-Bag Program to great heights and fulfill his promise. You see, Eric can relate to these children and families on a very personal level, as Newman himself was diagnosed with pediatric cancer at age 3. He knows "these families don't get to choose the situations they're in," and hopes the foundation and his Ready Bag program will help "soften the blow" for other pediatric cancer patients during their difficult journey.
The custom imprinted duffel bags that Bag Warehouse sponsored and produced for the Ready-bag program are filled with a blanket, toiletries, pens and paper, a coloring book, preloaded debit cards to help with gas and expenses, quarters for the vending machines, as well as a Kindle for reading; all items that Newman felt would help to facilitate an unplanned hospital stay and pass the time during long chemo treatments.
For his part, Bag Warehouse President Mark Ditteaux says, "we have been blessed and been able to grow our promotional bag business significantly through this difficult time in our economy and this was an opportunity to give back and support a wonderful foundation from my home state of Virginia" Bag Warehouse looks forward to helping "to make the Ready-Bag Program a huge success in the coming years."
Bag Warehouse is a promotional bag wholesaler that sells directly to corporate buyers, groups, organization, conference or event planners, and associations. Bag Warehouse is headquartered in Santa Ana California, and maintains production facilities for imprinted promotional bags on the East and West coasts. Bag warehouse offers custom imprinted promotional bags in the following categories: tote bags, meeting bags, brief bags, travel bags, duffel bags, sports related bags, and brand name bags.
For more information about Bag Warehouse visit http://www.bagwarehouse.com, email Alex(at)bagwarehouse(dot)com or call 1.800.817.2247.
###