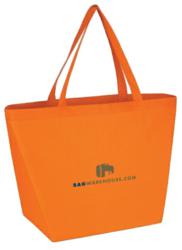 Customers use promotional bags more than 9 times a month, and have had their oldest promo bag for an average of over 4 years!
Santa Ana, CA (PRWEB) February 24, 2012
In recent years conferences and meetings have scrapped tote bags and brief bags in-order to save money and meet budgets, so you may not have received the, once customary, free giveaway bag. Bag Warehouse, a promotional bag provider, saw many past clients forgo their customary purchase of giveaway bags in 2010 and 2011. Through this trend, Bag Warehouse was able to see a direct relation between the decline in the conference and meeting industry and purchases in their main two categories, Promotional Tote Bags and Meeting Bags.
Recent reports have indicated optimism in the rebound of the conference and meeting industry and Bag Warehouse sees an early suggestion that this may be true. Alexandra Andersen, VP of Sales and Marketing at Bag Warehouse, shared that "although we have grown exponentially since the launch of BagWarehouse.com in 2009, in the last two months we have seen a visible sales increase in the tote bag and meeting bag categories. We find this very exciting, and a possible early sign that the conference and meeting industry will begin to rebound in 2012."
A recent survey by the Advertising Specialties Institute (ASI) should prove reason enough for conferences and meetings to bring back promotional bags. The survey showed that customers use promotional bags more than 9 times a month, and have had their oldest promo bag for an average of over 4 years! Further results displayed the average cost-per-impression for an imprinted promo bag is only $0.002, compared to $0.033 for an ad in a national magazine, with each custom imprinted or logoed bag averaging 1,038 impressions a month.
Bag Warehouse hopes to reap just some of the rewards from these survey results and the prospect of the rebound of the conference and meeting industry in 2012. With the launch of their Brand Name Promotional Bag Giveaway in January, Bag Warehouse looks to continue to build awareness for the importance and ROI conferences and meetings will find from the purchase and distribution of promotional bags for their upcoming events.
Bag Warehouse is a promotional bag wholesaler that sells directly to corporate buyers, groups, organization, conference or event planners and associations. Bag Warehouse is headquartered in Santa Ana California, and maintains production facilities for imprinted or embroidered promotional bags on the East and West coasts. Bag warehouse offers custom imprinted promotional bags in the following categories: tote bags, meeting bags, brief bags, travel bags, sports related bags, and brand name bags.
For more information about Bag Warehouse visit http://www.bagwarehouse.com, email Alex(at)bagwarehouse(dot)com or call 1.800.817.2247.
###