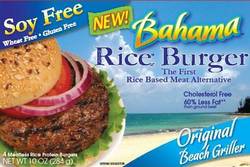 The First Rice Based Meat Alernative.
Ellwood City, PA (PRWEB) December 9, 2009
Morini Brands is proud to announce the creation of RISOFU (R) (pronounced rhee ZOE fu), the world's first rice-based meat alternative which is cholesterol,gluten, and trans fatty acid free and more.
Unlike all other meat alternatives which are soy-based and can trigger a wide range of allergens, Risofu(R) is all natural and is completely FREE of the world's top 8 allergens; soy, wheat, egg, dairy, tree nuts, peanuts, fish and shell fish. Uniquely formulated and processed to deliver a real meat-like texture and wonderfully diverse cooking characteristics, Risofu(R) is the key ingredient in the new Bahama(R) Rice Burger and was the perfect food choice to introduce the new BAHAMA (R)RICE BURGER -Morini Brands' initial offering of rice-based products.
The Bahama(R) Rice Burger was successfully launched last year, claiming the AVA's (American Vegetarian Association) coveted "Most Innovative Product Award" of 2008 for great taste, quality and more. The New Bahama(R) Rice Burger can be found in the freezer case at most Whole Foods, and many other natural food stores across the U.S. including its most recent distribution into Publix Corporate, Lakeland, FL.
Feedback has been positive. Packed with the finest all-natural and minimally processed ingredients, the Bahama(R)Rice Burger is rich in fiber, (t grams per serving) and Omega 3s (over 1000 grams per serving) and is certified Vegan. The Bahama(R) Rice Burger is gaining frozen shelf space daily and comes in four mouthwatering flavors; Original, Pineapple Mango, Jerkin'Spice and Mediterranean. Other delicious Morini Brands' offerings are on the way, including rice-based meatballs, sausage and a 5 oz. BBQ-Peppadew burger. Also look for the Bahama(R) Rice Burger to be available to the Food Service industry makings its way into schools, hospitals and restaurants. Risofu(R) will be available in bulk as an ingredient and available under license.
Morini Brands was founded by Christopher Morini, Sr. the creator of Risofu(R). Mr. Morini has nearly thirty-years experience in virtually every aspect of the food industry, including a long and distinguished career at Galaxy Nutritional Foods Products (formerly Galaxy Cheese Company) where he conceptualized Veggie Slices, a soy cheese and the first rice-based cheese alternatives - both product lines were guided to high impact shelf presence through the sales and marketing campaigns he developed and implemented.
Morini Brands is located in Windermere, Florida. For more information, to to http://www.Bahamariceburger.com.
###