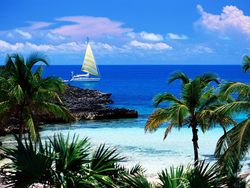 This is a tremendous market opportunity for us
Miami, FL (PRWEB) March 23, 2009
The Paradise Is Mine company today unveiled plans to open the first "Official US Sales Center" to exclusively market Bahamas properties in the historic South Beach section of Miami. Paradise Is Mine, developer of innovative online marketing tools for the real estate industry, provided details for its US based sales centers as part of a global marketing strategy to promote Bahamas real estate.
"The Bahamas government has taken a tremendously innovative approach in the way they market travel and tourism for their island. Bahamas.com is quickly becoming one of the most recognizable web properties and brands in the world. Their marketing and brand recognition is ingenious. Their logo is catchy and it's everywhere you look on the Internet," according to Lou Winthorpe, real estate and travel analyst and regular contributor to the BBC. "They are truly at the forefront of the way governments should market themselves online," Winthorpe further added.
Paradise Is Mine is parlaying the global appeal of Bahamas travel with the fact that the Bahamas real estate market, for the most part, has not been affected by the global economy. "This is a tremendous market opportunity for us," stated Ted Rover, Director of Sales for Paradise Is Mine. Who wouldn't want oceanfront property and a second home on a spectacular tropical paradise? At the end of the day this is not really that hard to sell," Rover went on to say.
The Bahamian government which has travel and tourism offices in London, Toronto, New York and South Florida has recently consolidated offices in Atlanta, Houston and Dallas in order to focus on the development of their online presence. This strategy is viewed by industry analysts as being at the forefront of governmental global marketing. Bahamas.com has aggressively marketed travel and tourism online most recently by partnering with the NFL by sponsoring numerous events for the upcoming Superbowl and Pro Bowl which will be held in South Florida in 2010.
South Florida, just 50 miles off the coast of the Bahamas, provides people interested in Bahamas real estate a perfect venue to get a feel for what the Bahamas has to offer without leaving the United States. "There are millions of tourists who visit Miami Beach every year and we feel that this is a perfect venue to promote the Bahamas," Rover went on to say.
"In the current global economic recession Bahamas real estate prices have remained stable which is truly remarkable. The Bahamas is a tremendous alternative for investors with money on the sideline, not to mention that it's a great place to have a second home. Opening a sales center is very strategic and should pay dividends for the company," said Winthorpe.
Currently Bahamas.com has between 8,000 and 9,000 unique visitors per day to their website. This contributes to the 5,000,000 visitors who visit the islands per year and Bahamas cruises which account for an additional 25,000,000 people per year. The Official US sales center for the Bahamas is slated to open in early summer of 2009.
Paradise Is Mine
1-888-RUM-CAY-8
http://www.ParadiseIsMine.com
Ted Rover
###