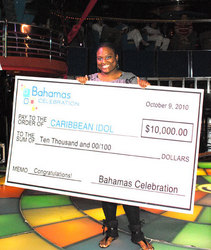 "Winning $110,000 and other great prizes for 16 minutes worth of singing is an impressive return."
West Palm Beach, FL (PRWEB) October 25, 2010
How easy is it to win $10,000? Ask Nehemie Celestin of Miami who won $10,000 as the September winner of Celebration Cruise Line's Caribbean Idol Karaoke Contest. What does Ms. Celestin need to do to win an additional $100,000? Sing just one more song.
Celebration's Caribbean Idol Karaoke Contest kicked off on September 1 and will run through May of 2011. Each contestant must sing two sings to win the individual cruise contest and a free cruise for two, one song to win the monthly $10,000 semi-finals and one song to win the $100,000 Caribbean Idol Finals.
On the cruise of October 9, Ms. Celestin competed against 13 individual cruise winners from the month of September. A standing room audience of ship passengers, who were also the judges for the contest, cheered on the contestants in The View, the two-deck nightclub of the Bahamas Celebration. Ms. Celestin didn't have time to be nervous watching the competition as she was the first singer to perform based on a random drawing. She sang, "And I'm Telling You".
"I've had a great time so far," said Ms. Celestin. "I can't wait until the finals."
The semi-finalists were male and female singers from Florida and other states, including Georgia, Texas, New York and New Jersey. Singers ranged in age from mid-twenties to mid-fifties.
Ms. Celestin will come back to perform again June, aspiring to be Celebration's first Caribbean Idol. She will compete against the other $10,000 monthly winners from October through May. If for any reason the monthly winner cannot compete, the runner-up will fill that spot.
Contestants must be at least 14 years of age and cannot be a professional singer. The contest rules defines professional as a person having a record deal and selling more than a thousand records.
"Everyone is having a lot of fun with the contest which has been a nice addition to the other fun activities we offer on the cruise," said Glenn Ryerson, senior vice president of sales & marketing for the cruise line. "Winning $110,000 and other great prizes for 16 minutes worth of singing is an impressive return."
Contestants can call 800-995-3254 or visit BahamasCelebration.com for more information.
About Celebration Cruise Line: Celebration offers two-night cruises every other day out from the Port of Palm Beach to the Bahamas. The Bahamas Celebration holds 1,100 passengers and has four unique restaurants, a Las Vegas-style casino, spa, live shows and music throughout the ship and a variety of Bahamas excursions. Cabin prices for the fall are from $119 per person.
# # #