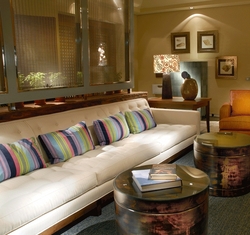 (PRWEB) February 5, 2008
Great Hotels of the World, representing some of the world's finest independent hotels and resorts, announce the opening of 40 new luxury villas at the five-star Gran Hotel Bahia del Duque Resort, Costa Adeje, Tenerife.
The 'Villas Bahia del Duque' opened in January to offer a fantastic new luxury option for discerning travellers visiting Tenerife and the Canary Islands. The villas form an independent part of the hotel complex, with separate entrance and reception areas for the ultimate in privacy and seclusion. Villa guests, however, still enjoy full access to the rest of the five-star Gran Hotel Bahia del Duque and its facilities, via a complimentary buggy service transporting guests to the bars, restaurants and beaches.
There are three types of new luxury villas, all of which include jacuzzis, a private swimming pool, a terrace and a spacious garden area with a carefully selected choice of subtropical plants and trees. The Villas Bahia del Duque offer one or two bedrooms, mainly on a single level but some across two floors. The exterior design and architecture of the villas have been completed by famous Spanish designer Pascua Ortega and the theme is a 'Future Retro' style combining traditional and modern influences. The villa exteriors have warm, sandy colours, while interiors incorporate natural light and elements of basalt stone to harness an ambience of exclusiveness and peace.
Guests of Villas Bahia del Duque also enjoy a private leisure centre, bar, 24-hour room service and an exclusive butler service. In addition, there is a new restaurant offering a fusion of traditional and nouveau cuisine to ensure guests enjoy both the variety and supreme quality for which the Gran Hotel Bahia del Duque Resort is renowned.
For further information and to book a stay at the Gran Bahia del Duque Resort in Tenerife, please contact Great Hotels of the World on 0800 032 4254, or visit http://www.ghotw.com/gran-bahia-del-duque
For further press information, please contact:
Zoë Martin
The Big PR Agency
Tel: 020 7380 8580
Email: zmartin @ bigpragency.com
Note to editors: The Great Hotels Organisation's family of brands include Special Hotels of the World (http://www.shotw.com) and Great Hotels of the World (http://www.ghotw.com), a forerunner among luxury hotel marketing alliances representing over 240 of the world's finest hotels and resorts. Both brands are driven by six core values, notably to keep members' costs down, to view each member as unique, to be innovative with technology, to value the power of the alliance, and to maintain the quality and integrity of the brand. Whichever brand is right for your property, the Great Hotels Organisation has a different and customer-driven approach to hotel sales and marketing. The Great Hotels Organisation manages the "GW" private label GDS chain code and toll-free voice reservation numbers operate in the USA and Europe. Further information on the Great Hotels Organisation can be found at http://www.ghorg.com
# # #