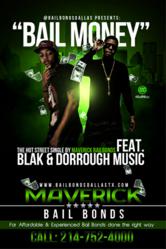 The relationship between Dorrough and Maverick, was formed through a true encounter in which the bail bonds company provided quality and prompt service to a Dorrough Music associate.
Dallas, Tx (PRWEB) May 24, 2012
DORROUGH Music and Maverick Bail Bonds announce strategic marketing agreement, Release "Bail Money" single featuring fellow Hulk Entertainment artist Blak.
While approaching double platinum status with his hit single, Ice Cream Paint Job, Dorrough Music has recently released a series of albums and mixtapes, including three Gangsta Grillz mixtapes with DJ Drama. His latest project, Highlights, hosted by DJ Ill Will, may be Dorrough Music's best work to date.
One of the singles from Dorrough Music's latest effort is "Bail Money" featuring Blak. This street savy anthem, serves as a reminder of who to call if you or a loved one, gets arrested. Partnering with Dorrough, is a brilliant marketing move by Maverick Bail Bonds, the number one bail bonds company in Texas. The song is a sure fire method of attaining brand impressions among the hip hop audience. The relationship between Dorrough and Maverick, was formed through a true encounter in which the bail bonds company provided quality and prompt service to a Dorrough Music associate. It was a natural fit and perfect working relationship.
Dorrough Music is also starring in a variety of commercial ads, promoting himself and the company on Flava Tv. Look for Maverick Bail Bonds to become a household name and pillar in the DFW community. Several charitable events, as well as back to school clothing and school supply drives, are in store for this summer. You can also look forward to the Bail Money music video and phone app.
Dorrough says, "I use my music for everything, when I want to express myself, I do it through my music and I think there's no other better way to do it."
ABOUT HULK ENTERTAINMENT
HULK Entertainment's primary vision is to provide a sound business structure in management, marketing and independent label services to talented artists and musicians in search of a career opportunity.
For over a decade, principal owners of HULKent have secured millions of dollars in endorsement deals and product placement for clients. They are also the owners and executive producers of two of the South's premier entertainment outlets, FLAVA TV and the Texas Summer Music Conference.
Currently in its 18th year, FLAVA TV has grown to dominate the DFW television market. FLAVA TV is a celebrity-driven, one-hour video show that airs every Saturday night at 11pm on CW33. Through music videos and lifestyle interviews, all of today's hottest stars can be found on FLAVA TV.
For the past 10 years, the Texas Summer Music Conference has played a major role in launching careers and networking opportunities for both unsigned and major artists. Past attendees include: Chris Brown, Erykah Badu, G-Unit, Paul Wall and the Grammy Academy, to name a few.
In coming months, HULKent will continue to develop their current roster of talent with national tours, international music releases and special marketing endeavors.
ABOUT MAVERICK BAIL BONDS
Maverick Bail Bonds is the fastest growing bail bonds service in the state of Texas. Maverick Bail Bonds has 3 locations in Dallas, Garland, and Rowlett Tx. Maverick provides bail bonds for the fastest jail release service in Texas.
Maverick Bail Bonds growth can be attributed to the commitment to customer service. Randy McCurdy, the business manager for Maverick Bail Bonds, says "We want to make your jail visit the shortest it can possibly be by being the fastest bail bonds service in Dallas - Fort Worth. We guarantee that we will handle your situation with courtesy, respect, and the utmost concern for you and our clients."
Maverick Bail Bonds supports your 8th Ammendment rights:
"Excessive bail shall not be required, nor excessive fines imposed, nor cruel and unusual punishments inflicted."
For your bail bonds needs you can reach Maverick Bail Bonds in person or by phone:
Maverick Bail Bonds Dallas
1114 N. Riverfront Blvd.
Dallas, TX 75207 USA
214-752-4000
Maverick Bail Bonds Garland
2301 Forest Lane #105
Garland, TX 75042 USA
972-494-6200
Maverick Bail Bonds Rowlett
4501 Rowlett Rd. Suite 101B
Rowlett, TX 75088 USA
972-412-3868
*Press release and public relations provided by Dallas Internet Marketing Agency SMB SEO and Mic Moodswing Management