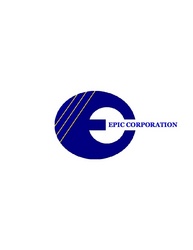 Who is going to buy the bonds
AUSTIN, Texas (PRWEB) September 25, 2008
Epic Corporation today announced its opposition to the Bailout Bill, which it believes is nothing more than welfare for the rich and powerful, and comes with more government control of the capital markets.
"People are asking the right questions but getting no answers or fear bating," said Ronald Tucker, President of EPIC. "I believe the Bailout will do more harm than good to small businesses like EPIC and working people. The Bailout will not help taxpayers.
"How could it," said Mr. Tucker. "The federal government will raise $700 Billion to buy the bad mortgages by issuing interest bearing bonds. With an interest rate of 5%, the interest per year is $35 Billion. If the National Debt is $11 Trillion and interest rate is 4%, the interest is $440 Billion per year. Even if the government makes a profit from the sales, all the cash received would probably be used as part of the general fund. Each year the National debt increases.
"Who is going to buy the bonds," asked Mr. Tucker. "It should be obvious. It will come from oil producing countries. Due to the high price of oil, the oil producing countries have lots of money laying around with nowhere to go. Thus the bailout will contribute to our dependence on foreign oil and we will pay dearly.
"It is the fat cats, who will buy the bad mortgages. They will make lots of money," stated Mr. Tucker. "Adding insult to injury, a large part of the money will probably come from oil producing countries. Its strange, the government now wants to do what Wall Street did.
"We are already in a painful recession and passing a Bailout Bill may at best prolong and deepen the financial crisis," Mr. Tucker further stated.
"A Bailout Bill will probably pass because it gives Congress the opportunity to gain greater control over the capital markets and economy," stated Mr. Tucker. "This means, when the financial markets stabilize, small businesses will not be able to get the financing from banks because they do not have the asset base or collateral as required by the federal regulations.
"American business and people do not need a Bailout. Business and economic cycles are always up and down. They will always run their course. Businesses and people will always get hurt. A big business runs the same risks as a small business and they should face the same results for their mismanagement or mistakes," Mr. Tucker said.