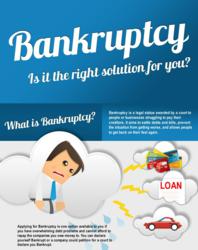 We always recommend that people find out if their financial issues could be solved with another type of debt solution. That's why we issued this infographic – to give people a better understanding of Bankruptcy."
UK (PRWEB UK) 31 July 2012
When debt is a pressing issue, it can be difficult to know what to do and where to turn if you don't know what options are available.
For some people they try to struggle alone and when they feel like they can't cope, they turn to Bankruptcy. For some people, Bankruptcy can be the right solution, but for some other people, their financial problems could be solved with a less severe option.
According to Credit Action – the national money education charity – 314 people are declared insolvent or bankrupt every day, which is equivalent to 1 person every 63 seconds during each working day.
Bankruptcy is one of the high-profile solutions – mainly because we often hear about celebrities or companies who have become insolvent, and subsequently bankrupt.
For example, Shane Filan who found fame and fortune with boyband Westlife recently filed for Bankruptcy. His situation wasn't caused by living a reckless showbiz lifestyle, but was a result of the economic downturn after investing a great deal of money into a property development.
Neil Morrissey also lost millions due to a property investment collapsing, but instead of going bankrupt, found that his debt problems could be solved with an Individual Voluntary Arrangement (IVA) - a solution that has less-severe repercussions than Bankruptcy.
So how do you know if Bankruptcy is right for you?
Baines & Ernst – one of the country's leading providers of debt help has put together this interesting Infographic to show the benefits, pitfalls and alternative solutions to Bankruptcy.
A Baines & Ernst spokes person said "We often hear from people who think their only option is Bankruptcy. And while this can be true for some, we would always recommend that people find out if their financial issues could be solved with another type of debt solution such as a Debt Management Plan, IVA or Debt Relief Order. That's why we issued this infographic – to give people a better understanding of Bankruptcy."
So if you want to know more about what it means to go bankrupt, as well as positives including what protection you get, how long a bankruptcy order lasts and when you can expect to be free from debt – plus the downsides like how bankruptcy can affect your credit rating, assets and even employment opportunities, you'll find it all here in the Baines & Ernst infographic: Bankruptcy: Is It The Right Option For You?