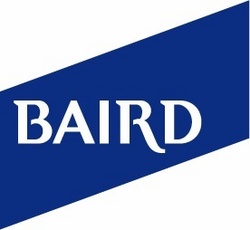 This year's conference is particularly relevant as markets have turned increasingly volatile. Investors are hungry to learn about firms and sectors that are continuing to perform well despite the current environment
CHICAGO (PRWEB) May 12, 2008
"This year's conference is particularly relevant as markets have turned increasingly volatile. Investors are hungry to learn about firms and sectors that are continuing to perform well despite the current environment," said Director of Research Robert Venable. "Baird has, once again, attracted a great group of companies that can demonstrate their continued success."
Q&A with Senior Research Analyst Christopher Raymond
In anticipation of the Growth Stock Conference, Baird took the opportunity to talk with Senior Research Analyst Christopher Raymond about some of the growth opportunities in the biotechnology sector.
Q. Drug and therapeutic stocks are often viewed as counter cyclical investments. Why is that?
Companies in this group, for the most part, produce products that patients will demand regardless of the economy. So while individuals may curtail their spending in one area in an economic slowdown, the underlying demand for drugs is generally quite resistant to forces that might impact the broader economy.
Q. But Biotech stocks have not exactly had a great start to the year, have they?
No they haven't. While as a sector, biotech has outperformed the broader NASDAQ Composite, the group is still down about 4-5% from the start of the year. I think this performance has been largely driven by some fairly important macro head-winds.
First, the election presents the biggest unknown as rhetoric from some of the candidates has focused on changes to the health care system which could equate to more restrictive Medicare policies and increased pricing pressure. Second, coincident with the election cycle, the pendulum at the Food & Drug Administration (FDA) has also swung to a more conservative position on drug approvals. For biotech companies – which are rich in pipeline opportunities but dependent on an efficient approval process – this poses a problem.
Despite the fact that commercial biotech companies have, for the most part, continued to put up impressive numbers, it seems as though concerns about the impact of these two issues on the space in 2009 and beyond has kept some investors on the sidelines.
Q. Are these uncertainties temporary or more fundamental in nature?
I think they are temporary. While reimbursement policies may indeed evolve, and FDA may continue to struggle, over the long run, we believe the fundamentals of this sector are very good. These are the quintessential defensive growth stocks. After all, collectively, their products do nothing less than improve the human condition. For drugs that can significantly extend or improve lives, demand will be fairly inelastic for the foreseeable future.
Q. So could this year's uncertainty present a buying opportunity?
The headwinds I mentioned earlier are likely to continue for much of 2008, and I think the large-caps in our space are probably most susceptible to these concerns. However, we do see significant opportunities now in some of the newly or nearly-commercial mid-cap names.
Q. What's different about mid-cap names?
A couple of things. First, in a mid-cap biotech, we look for commercial stories that are fairly self-contained, at the beginning of their growth trajectory and offer products that meet a significant unmet medical need. Often times a very successful route has been to develop drugs targeted at what are called orphan populations – small, highly targeted populations with a high-value, disease altering therapy. An example is BioMarin Pharmaceutical (BMRN). BioMarin has three approved drug therapies – all of which target diseases most people have never heard of, but which are very serious. One example is a drug called Kuvan, which treats a disease called phenylketonuria (PKU), a rare genetic metabolic disorder primarily affecting children. This drug was just approved at the end of 2007, and targets an initial addressable US population of just about 7,000 people. However, given a very high price-point, we think it's on track to post 2008 revenue of $75M, and has the potential to be a $500M drug.
Second, given that many large pharmaceutical and even some large biotechs are facing slowing growth, acquisition of a nearly or newly commercial, faster growing mid-cap can be a very effective way to bolster top line performance. A recent example is Millennium Pharmaceutical (MLNM), which has recently agreed to be acquired for over $8B despite having posted 2007 revenue of just over $525M.
Q. Any other thoughts on the outlook for the biotech sector?
We think that the long-term prospects for this industry remain compelling. These companies, for the most part, offer products with seemingly insatiable demand and some of the highest margins of any U.S. industry. Despite current election headwinds and other regulatory issues, we continue to like select mid-cap biotechs as an attractive investment opportunity.
About Chris Raymond and Baird's Equity Research Team
Chris is Baird's senior analyst covering Biotechnology. He was recognized by The Wall Street Journal in its "Best on the Street" listing for his coverage of Biotechnology in 2003. Prior to joining Baird in 2002, he was a biotech analyst at Prudential and Prudential Vector Healthcare Group. Previously, he spent 10 years with Baxter Healthcare and G.D. Searle, where he focused on marketing oncology and cellular therapy products. Chris received a BA from Michigan State University and an MBA from the University of Chicago.
Baird has been recognized for the quality of its investment research. Integrity Research rated Baird No. 1 in small cap research, and a Bespoke Investment Group (B.I.G.) survey found that Baird analysts' stock recommendations had the most impact on stock prices. In addition, Baird has been repeatedly well-represented on The Wall Street Journal's "Best on the Street" analyst survey rankings over the years. Seven Baird analysts also received 12 awards from StarMine, ranking the firm third overall, based on 2006 data. StarMine is the most recognized firm in the industry for tracking earnings accuracy and stock picking results.
About Baird
Baird is an employee-owned, international wealth management, capital markets, private equity and asset management firm with offices in the United States, Europe and Asia. Established in 1919, Baird has more than 2,200 associates serving the needs of individual, corporate, institutional and municipal clients. Baird oversees and manages client assets of $73 billion. Committed to being a great place to work, Baird is one of FORTUNE's "100 Best Companies to Work For" in 2008 – its fifth consecutive year on the list. Baird's principal operating subsidiaries are Robert W. Baird & Co. in the United States and Robert W. Baird Group Ltd. in Europe. Baird also has an operating subsidiary in Asia supporting Baird's private equity operations. For more information, please visit Baird's Web site at http://www.rwbaird.com.