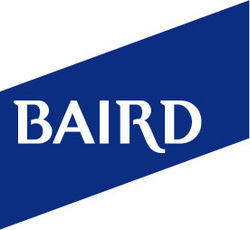 This triggered a complete re-assessment of credit risk. It also harmed liquidity as many investors were reluctant to buy bonds that weren't AAA-rated
Milwaukee, WI (Vocus) December 23, 2008
Baird Intermediate Municipal Bond Fund has navigated a variety of markets, but none like we've seen lately.
As investors face some of the most challenging markets in a lifetime and potentially higher tax rates under the new Obama Administration, municipal bonds are an attractive choice for many. Municipal yields today are attractive relative to Treasury bonds. Traditionally a safe harbor, municipal bonds used to be considered a close second to Treasury bonds in terms of safety. But in the last year, the safety of many municipal bonds has come into question.
Said Warren Pierson, co-portfolio manager, "Never has it been more difficult for 'do-it-yourself' municipal bond investors." In the past, many investors were comfortable buying a few AAA-rated insured municipals and just holding on to them. But today, you need additional diversification and extra vigilance to make sure your underlying credits haven't deteriorated.
"The municipal bond market has seen unprecedented downgrades and represents significantly more risk than in the past. Municipal bonds are no longer the safe harbor they used to be."
For example, municipal bond insurance, which many investors relied on to back up their bonds, is no longer the meaningful backstop it used to be. Another victim of the recent credit crunch, the downgrades of municipal bond insurers meant many investors found the quality of their bonds dropped overnight when these insurers lost their AAA rating.
"This triggered a complete re-assessment of credit risk. It also harmed liquidity as many investors were reluctant to buy bonds that weren't AAA-rated," said Pierson. "We've never relied solely on bond insurance and always buy bonds that we believe can stand on their own. Less than 20% of our portfolio is insured and the underlying bonds are all high quality."
In addition, the Baird Intermediate Municipal Bond Fund likes pre-refunded bonds that have U.S. Treasuries held in escrow to assure repayment. "Our strategy is weighted toward bonds that are backed up with Treasuries because these bonds provide the highest level of assurance that we will receive all scheduled interest and our principal at maturity.
Pierson believes it will continue to be a tough environment for municipalities. The pressure on government budgets at all levels puts additional pressure on cities and counties for more belt tightening. While municipalities planned for rising revenue, the downturn in real estate means lower real estate valuations and ultimately lower tax revenue. This stress could lead to some municipalities facing downgrades or even defaults. "The credit dynamics continue to deteriorate," said Pierson.
In addition to fiscal pressures, rising interest rates could put significant downward price pressure on longer municipal bonds going forward. As politicians attempt to address the economic downturn, there could be so much fiscal stimulus that leads to potentially higher inflation and interest rates. "We continue to believe the intermediate-term municipal maturities offer attractive returns while providing some protection against rising rates."
Pierson is part of a team that manages fixed income investments for Baird Advisors, the bond asset management unit of Robert W. Baird & Co. The team's safety-conscious approach has helped the Baird Intermediate Municipal Bond Fund weather this challenging market. The Fund posted a YTD return of 3.82% through November 30, on its Institutional share class. Lipper ranked the fund No. 1 out of 157, 146 and 123 national intermediate municipal bond funds for the one-year, three-year and five-year periods, respectively, through November 30, 2008. The Fund's Overall Morningstar Rating is five stars among 236 funds in the muni national intermediate category.
The fund does not invest in AMT bonds whose income may be subject to the alternative minimum tax for some investors.
About Warren Pierson, CFA
Warren Pierson is co-portfolio manager of several Baird Bond Funds including the Baird Intermediate Municipal Bond Fund. He has over 22 years of investment experience managing various types of fixed income portfolios. Prior to joining Baird Advisors in 2000, Warren was a Senior Vice President and Senior Portfolio Manager with Firstar Investment Research & Management Company (FIRMCO) where he played a lead role in the management of taxable and tax-exempt portfolios. He joined Firstar in 1985. He is a member of the CFA Institute and the CFA Society of Milwaukee (past President).
About Baird Funds
The Baird Funds family offers a full range of both fixed income mutual funds , managed by Baird Advisors, and equity mutual funds , managed by Baird Investment Management (BIM) and the Riverfront Investment Group (Riverfront). The seasoned investment professionals of Baird Advisors, BIM and Riverfront use proven, disciplined investment approaches that seek to deliver consistent, competitive returns to mutual fund shareholders. For more information, visit http://www.bairdfunds.com .
About Baird
Baird is an employee-owned, international wealth management, capital markets, private equity and asset management firm with offices in the United States, Europe and Asia. Established in 1919, Baird has more than 2,300 associates serving the needs of individual, corporate, institutional and municipal clients. Baird oversees and manages client assets of more than $66 billion. Committed to being a great place to work, Baird is one of FORTUNE's "100 Best Companies to Work For" in 2008 -- its fifth consecutive year on the list. Baird's principal operating subsidiaries are Robert W. Baird & Co. in the United States and Robert W. Baird Group Ltd. in Europe. Baird also has operating subsidiaries in Asia supporting Baird's private equity and investment banking operations. For more information, please visit Baird's Web site at http://www.rwbaird.com .
Information as of 11/30/08
The Baird Intermediate Municipal Bond Fund Institutional Class received five stars for the 3-year period among 226 muni national intermediate term bond funds and five stars for the 5-year period among 210 muni national intermediate term bond funds.
The overall Morningstar Rating for a fund is derived from a weighted average of the performance figures associated with a fund's three-, five- and ten-year (if applicable) Morningstar Rating metrics.
For each fund with at least a three-year history, Morningstar calculates a Morningstar Rating based on a Morningstar Risk- Adjusted Return measure that accounts for variation in a fund's monthly performance (including the effects of sales charges, loads and redemption fees), placing more emphasis on downward variations and rewarding consistent performance. The top 10% of funds in each category receive five stars, the next 22.5% receive four stars, the next 35% receive three stars, the next 22.5% receive two stars and the bottom 10% receive one star. Each share class is counted as a fraction of one fund within this scale and rated separately, which may cause slight variations in the distribution percentages. Past performance is no guarantee of future results.
Lipper ranked the Baird Intermediate Municipal Bond Fund Institutional Class No. 1 out of 157, 146 and 123 national intermediate municipal bond funds for the one-year, three-year and five-year periods, respectively, through November 30, 2008. Lipper rankings are based on average annual total returns for the 1,3,5, 10-year/life periods for each respective Lipper category. Each fund is ranked based on average annual total returns assuming reinvestment of dividends and capital gains, distributions, at net asset value and the deduction of all fund expenses. Past performance is not a guarantee of future results.
The average annual total returns for the Institutional Class of the Baird Intermediate Municipal Bond Fund as of September 30 are 3.19% for the one-year period, 2.98% for the five year period and 4.54% since its March 30, 2001, inception date. The expense ratio is 0.30% and the minimum investment is $25,000.
Performance data quoted represents past performance. Past performance does not guarantee future results. Investment returns and principal value of an investment in the fund will fluctuate so that an Investor's shares, when redeemed, may be worth more or less than their original cost. The fund's current performance may be lower or higher than this performance data.
Investors should consider the investment objectives, risks, charges and expenses of each fund carefully before investing. This and other information is found in the prospectus. For a prospectus and application , contact Baird Funds directly at 800-444-9102, at http://www.bairdfunds.com , via e-mail, or contact your Baird Financial Advisor. Please read the prospectus carefully before investing.
For additional information, contact:
Jody R. Lowe, Lowe Communications LLC
(414) 322-9311
# # #