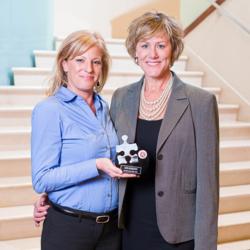 As we embark on our 75th year in the electrical contracting business, it's a distinct honor to achieve this prestigious first place AGC safety award for two consecutive years, said BEI President Ted Baker
Escondido, Calif. (PRWEB) January 31, 2013
Baker Electric Inc. is pleased to announce it has received a 2012 Associated General Contractors of America (AGC) San Diego Chapter Inc. Construction Safety Excellence Award (CSEA). Baker Electric was honored with First Place in the Specialty Contractor Division - 500,001 to 700,000 work-hour category. The Baker Electric safety entry has moved on to AGC national competition.
The AGC's CSEA program is the industry's elite safety excellence awards program for construction companies of all sizes and occupational divisions. It recognizes companies that have developed and implemented premier safety and loss prevention programs. The local safety awards were presented at the 2013 AGC San Diego Chapter Installation of Officers, Directors, AGC Membership Awards and Safety Awards event on Thursday, Jan. 24, 2013 at the Hilton La Jolla Torrey Pines.
The AGC San Diego Chapter CSEA selection process covered qualitative measures, program evaluation checklists, and qualitative essays. In its entry, BEI demonstrated outstanding safety and loss prevention management including risk controls, safety training, work site hazard identification and safety program innovations. The following company representatives were in attendance: Safety Manager, Angie McAnelly; Vice President of Pre-Construction, Keith Fleming; HR Manager, Robyn Kraft; Director of Business Development, Lance Wankier; Area Superintendents Will Coyle and Matthew Reckling.
"Baker Electric Inc. is dedicated to the development and implementation of premier safety and loss prevention programs," said Baker Electric President, Ted Baker. "As we embark on our 75th year in the electrical contracting business, it's a distinct honor to achieve this prestigious first place safety award for two consecutive years. Our customers and employees both benefit from our leadership in safety and occupational health performance programs."
BEI serves as both a prime and subcontractor and has completed multimillion dollar contracts throughout Southern California's Los Angeles, Orange, Riverside, San Bernardino, Ventura and Imperial Counties, as well as projects in Central and Northern California. Public and private sector projects span commercial, industrial, high tech, manufacturing, education, military, hospitality, gaming, power generation and residential developments.
For more information about Baker Electric Inc. visit http://www.baker-electric.com.
About Baker Electric Inc.
Founded in 1938, Baker Electric, Inc. (BEI) is a closely held corporation under the leadership of fourth generation family members. It provides comprehensive pre-construction services and the planning, coordination, design | build, in-house electrical engineering and project management of any size project from initial design to follow-up maintenance. BEI serves as both a prime and subcontractor. The company's solar arm, NB Baker Electric, Inc., dba Baker Electric Solar designs, builds and installs photovoltaic solar power systems for new and existing homes and commercial facilities across Southern California. For more information, visit http://www.baker-electric.com.