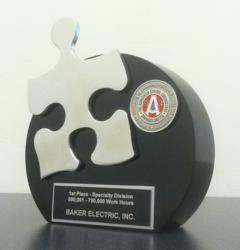 It's speaks volumes to our customers and employees to announce Baker Electric received the AGC San Diego CSEA award for our commitment to safety on this our 74th anniversary, said President Ted Baker
Escondido, Calif. (PRWEB) April 12, 2012
Founded in April 1938, Baker Electric, Inc. is pleased to formally announce it has received a 2011 San Diego Chapter Associated General Contractors of America (AGC) Construction Safety Excellence Award (CSEA). Baker Electric was honored with First Place in the Specialty Contractor Division - 500,001 to 700,000 work-hour category.
The AGC's CSEA program is the industry's elite safety excellence awards program for construction companies of all sizes and occupational divisions. It recognizes companies that have developed and implemented premier safety and loss prevention programs. The selection process is comprehensive and includes: the review of a company's commitment to management, active employee participation, safety training, work site hazard identification and control and safety program innovations.
The AGC San Diego Chapter CSEA selection process covered qualitative measures, program evaluation checklists, and qualitative essays. Baker Electric received the local San Diego AGC Chapter first place award. As a local first place recipient, Baker Electric safety entry moved on to AGC national competition.
"My great grandfather Leroy Neville Baker acquired Dietrich Electric on April 4, 1938 for $4,800. With the family name on his service truck, he went about setting high standards for customer service, quality work ethic and pride in craftsmanship," said Baker Electric President Ted Baker. "It's speaks volumes to our customers and employees to announce we have received the AGC San Diego Construction Safety Excellence Award for our commitment to safety on this our 74th anniversary."
BEI is a closely held corporation under the leadership of fourth generation family members. It is purported to be Escondido's oldest electrical contracting firm. The company's electrical contracting license was one of the first issued when California passed the State Law requiring a license in 1956. With revenues in excess of $75 million, BEI currently employs 90+ internally with 350+ certified electricians in the field.
BEI serves as both a prime and subcontractor and has completed multimillion dollar contracts throughout Southern California, Los Angeles, Orange, Riverside, San Bernardino, Ventura and Imperial Valley, as well as projects in Central California and Monterey. Public and private sector projects span commercial, industrial, high tech, manufacturing, education, military, hospitality, gaming, power generation and residential developments.
For more information about Baker Electric Inc. visit http://www.baker-electric.com.
About Baker Electric Inc.
Founded in 1938, Baker Electric, Inc. provides comprehensive pre-construction services and the planning, coordination, design | build, in-house electrical engineering and project management of any size project from initial design to follow-up maintenance. BEI serves as both a prime and subcontractor. The company's solar arm, NB Baker Electric, Inc., dba Baker Electric Solar designs, builds and installs photovoltaic solar power systems for new and existing homes and commercial facilities across Southern California. For more information, visit http://www.baker-electric.com.