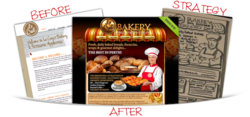 Brisbane, Queensland (PRWEB) June 02, 2013
Websites That Sell has recently launched their Bakeries Web Design services. This service is aimed at Bakeries that want to target more profitable customers and take their online brand to a new level.
David Krauter, founder of Websites That Sell commented "I'm excited about this service since our last clients website project was an incredible success. In the clients own words after he saw the transformation of their web design he literally fell off his chair! That's the kind of impacting design we aim to achieve with this new service for every single one of our clients"
With the growth of the Internet it's become more important than ever before to have a great brand presence online. Having a great website that represents the quality of your product and service is the first place to start building your online presence.
David Krauter commented that the way Websites That Sell helps Bakery owners create great websites is by focusing on 3 core areas.
1) Developing a marketing strategy and sales process within the website
2) Create a design that directly targets the most profitable segment of the client target market.
3) Create WOW design that instantly impresses new potential customers.
This is the process Websites That Sell takes for every client project. So if you'd like to find out more about the new website design service Websites That Sell offers you can contact them at WebsitesThatSell.com.au