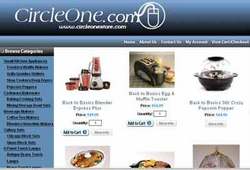 We're a smaller business, so we're more customer focused
Berwick, PA (PRWEB) August 20, 2008
CircleOne, a company that sells appliances for kitchen use, announces the grand opening of their new online store. The site uses a secured payment gateway, allows customers to buy bakeware online, and also sells a variety of touch lamps for convenient home decoration. It is visible on the Web at CircleOneStore.com.
CircleOne was founded by Kim Neitz and Mary Jane Neitz, Co-Owners under a General Partnership agreement. Kim graduated from Penn State with an Associate Degree in IST. Mary Jane is a homemaker with a diploma in home economics. Each graduated at the top of her class. Their combined expertise ensures that only the best products are offered with a high level of customer service.
"We're a smaller business, so we're more customer focused," said Kim Neitz. "Our company is dedicated to providing quality products and service to our valued customers." To that end, the site was designed with ease and usability in mind. Customers can sign up, make shopping and wish lists, and email friends about products with minimum effort and maximum convenience. The beginning product focus is on small kitchen products and touch lamps, and will expand as the site grows.
The appliances for kitchen use that the site offers vary in price, function, and innovation. One of the items that the site's founders are quite excited about is the Back to Basics Egg & Muffin Toaster, which allows people to make an egg-muffin sandwich in less time, and costing less money, than going through the drive thru. The Back to Basics Egg & Muffin Toaster makes breakfast sandwiches in four minutes, can hard boil up to four eggs at a time, and comes with an auto shutoff.
Those customers looking to buy bakeware online will also not be disappointed, as CircleOne offers sets from Baker's Secret, Corningware, Farberware, Pyrex, and Reco, the leading brands on the market. By offering these various brands, many styles and appliances are covered, giving the buyer plenty of choice when looking to buy bakeware online.
Kim Neitz added, "We address the many diverse needs of today's customers by incorporating usability, durability, and style, not to mention affordability, for all of our products."
For more information, or to begin shopping for kitchen appliances online, visit CircleOneStore.com.
About CircleOne:
CircleOne, visible online at CircleOneStore.com, is a new online store featuring small kitchen appliances, cookware and bakeware, beverage makers, cutlery sets, and touch lamps. The company was founded by Kim Neitz and Mary Jane Neitz.
###