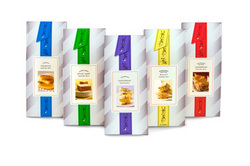 We're so excited to be able to offer these delicious mixes and spreads
Napa Valley, CA (PRWEB) March 25, 2008
Made In Napa Valley, a division of Tulocay & Co has just released a new line of baking mixes and premium fruit spreads to complement its existing collection of high-end gourmet foods.
"We're so excited to be able to offer these delicious mixes and spreads," says Senior VP of Sales & Marketing, Karen Foley. "Everyone loves baked goods and fruit preserves, but so few people have the time to make them at home. With these new products, our customers can experience the same high quality and fabulous taste that they've come to associate with the Made In Napa Valley brand." The five new baking mixes offer a sophisticated spin on classic flavors: Warm Ginger Spice Cake, Southwest Spicy Cornbread, Green Onion Biscuit, Rosemary Shortbread and Herbed Focaccia. Designed to be a simple, foolproof way to create scrumptious baked goods that both look and smell delicious, these products allow anyone to prepare a batch of home baked goodness without spending hours in the kitchen.
The new line of fruit spreads includes four tantalizing flavors: Pear & Chiles with Lemon Champagne Vinegar, Pomegranate & Citrus with Chardonnay, Blackberry Spice with Merlot, and Melon & Spice with Champagne. The spreads were inspired by traditional methods of fruit-preserving passed down through generations. Made with premium fruit, seasoned with warm spices, and blended with wine, each of these spreads offers a delectable taste experience.
Inspired by the vibrant colors and sumptuous flavors of wine country, Made In Napa Valley products elevate everyday meals to celebrations of taste. Made In Napa Valley is regularly recognized with awards for exceptional flavor and quality, including the coveted NASFT award for outstanding new product line in 2004 and they have been featured in numerous publications, including O, The Oprah Magazine, Sunset Magazine, Better Homes and Gardens, and Wine Spectator.
Made In Napa Valley products are available at fine retailers across the United States, such as AJ's Fine Foods, Whole Foods, Crate and Barrel, Sur La Table and Cost Plus World Market. The products can also be purchased directly at the company's website at http://www.madeinnapavalley.com.
Founded in 1993 Tulocay & Co, located at the gateway to the Napa Valley is a leading manufacturer of all-natural specialty food products. In addition to the house brands: Made In Napa Valley, a line of specialty pantry products inspired by the agricultural abundance, unique culinary style and global flavors of the Napa Valley; Vineyard Pantry, a line of high-flavor, value-priced sauces, condiments and marinades that reflect the casual wine country spirit, and Kingslake & Crane, a line of premium granola snack mixes, they also create and produce private label products for well-known brands throughout the country.
For more information about these or other Made In Napa Valley products, please contact Julia Scannell at 888.NAPA.VLY ext 3230.
###