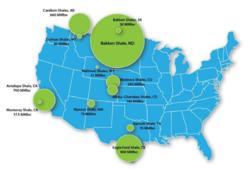 The opportunities are almost limitless – and is not too late to get involved.
New York, NY (PRWEB) October 16, 2012
With oil reserves rivaling those of Saudi Arabia, the Bakken Formation in the Upper Midwest is driving an economic boom the likes of which we might never see again. The "North Dakota Miracle" is creating once-in-a-generation opportunities in oil, gas, real estate, business, investment and economic development.
New Yorkers will have a convenient opportunity to get an in-depth look at opportunities in the region when Law Bulletin Publishing Co. and Hegg Cos. present "Opportunities in North Dakota and the Bakken: New York Summit," to be held from 7:55 a.m. to 4:30 p.m., Tuesday, Nov. 13, at the Sheraton New York Hotel, 811 7th Ave. 53rd St. in Midtown.
The Bakken's unprecedented opportunities for the energy industry are the most obvious. Geologists estimate that the region holds more than 25 billion barrels of recoverable oil – and those estimates are considered by many to be rather conservative.
But the area also holds tremendous opportunity for real estate developers, investors and other businesses. The oil boom is driving explosive job and population growth in western North Dakota, yet the state still boasts the lowest unemployment rate in the nation: 3 percent. Workers are flocking from other states, yet North Dakota can't hire people fast enough to meet demand. Nor does it have the infrastructure and amenities needed to support the rapid growth.
"We need more of everything in North Dakota," one of the speakers said recently during a similar conference. There is a critical shortage of housing, healthcare, retail, hotels, restaurants and other services – not to mention an urgent need to improve basic infrastructure: roads; electric power lines; oil, gas and water pipelines; water systems; rail transload facilities; natural gas plants; oil refineries; and much more.
"The opportunities are almost limitless – and is not too late to get involved," says Jeff Johnson, general manager and group publisher of Law Bulletin Publishing Co. "North Dakota, the Bakken and the Williston Basin are still in the early stages of growth and prosperity, and there are many opportunities to profit – either directly with business ventures in the region or by investing in the ventures already in place." At the conference, attendees will be able to hear firsthand from industry experts about the vast number opportunities North Dakota has to offer.
"Any person who has any sort of interest in what is happening with North Dakota and the Bakken should attend this event," Mr. Johnson says. "Attendees will walk away from this conference with actionable knowledge they can use immediately to make informed business and investment decisions."
"Opportunities in North Dakota and the Bakken: New York Summit" will feature almost 20 industry experts, some of whom are scheduled to include: Chris Faulkner, CEO of Breitling Oil & Gas; Joe Ryan, CEO of Oppidan Investment Co.; Jerry Chavez, CEO of the city of Minot, N.D.; Tim Fisher of Bakken Energy Solutions; Jack Ekstrom of Whiting Petroleum Co.; Andy Peterson, president of the North Dakota Chamber of Commerce; and Tom Rolfstad, president of Williston (N.D.) Economic Development; and several others.
Those who register for this event by Oct. 30 will receive an early bird rate of $379. Those who register by Nov. 12 will pay $479. The walk-in rate is $579. For more information or to reserve a space at this conference, please visit http://www.bakkensummit.com, or contact Jeff Johnson at 952-405-7780 or jjohnson (at) rejournals (dot) com.
Qualified members of the news media may attend the event at no cost. Please RSVP to Jeff Johnson using the phone number or email address above.
About Law Bulletin Publishing Co.
The Law Bulletin Publishing Co. is a diversified print and electronic information company serving legal, real estate and financial markets in several states including the Midwest. Our products and services are uniquely tailored to meet the information needs of these markets in areas that would otherwise be underserved. Founded in 1854 and based in Chicago, the Law Bulletin Publishing Co. is one of the oldest companies doing business within that city. For more information, please visit http://www.lawbulletin.com.