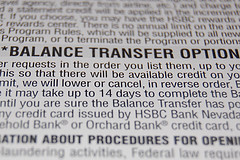 Consumers seeking 0% APR balance transfer offers will find historically long – and generous – offers
Norwalk, CT (PRWEB) October 26, 2011
According to the SmartBalanceTransfers.com October 2011 report on balance transfer credit cards, consumers in the market for 0% credit cards will find a handful of outlying offers with exceptionally long 0% introductory periods lasting up to 21 months as well as a large pack of mediocre offerings, many of which provide paltry 6 month introductory periods.
"Consumers seeking 0% APR balance transfer credit cards will find historically long – and generous – offers from both Citibank and Discover," said Jeffrey Weber, Editor and Chief Card Analyst at SmartBalanceTransfers.com. "Citibank in particular offers tremendous value to consumers who can benefit from 0% interest rates on balance transfers and purchases as they are presently marketing three cards that offer 0% APRs on both segments for 21 months."
Apart from Citibank, the only major credit card company offering noteworthy 0% balance transfer offers was Discover, which has two cards that offer 0% rates for 15 to 18 months on balance transfers.
"Throughout 2011, Discover and Citibank have consistently provided consumers with the greatest options in the value segment of the credit card market," Mr. Weber said. "Other credit card companies are either focused on the rewards segment or essentially doing very little to entice new customers."
In the October balance transfer report, Mr. Weber cites the Chase Freedom $200 credit card as an example of the type of perks banks are using in lieu of low rate offerings to attract new customers.
Overall, the report found that the average length of balance transfer offers decreased slightly from 12.17 months in September to 12.16 months in October, though this was primarily due to the addition of the new Capital One Cash card to the index. Average balance transfer fees also fell modestly from 3.28% to 3.26% due to this addition. As has been the case since March, no major credit card company offered a no fee balance transfer credit card.
According to Mr. Weber, "Consumers who have the ability to transfer existing credit card debt to a Citibank or Discover credit card are in a good position to capitalize from 0% balance transfers. Unfortunately, those who have existing balances on credit cards issued by these companies will find that the availability of good value credit cards is severely limited. For example, Wells Fargo and U.S. Bank have no cards with 0% rates lasting more than 6 months. These are the type of offers that were available during the depths of the credit crisis and offer minimal, if any savings opportunity."
For additional information and to learn more about SmartBalanceTransfers.com's ranking of the best balance transfer credit cards of 2011, please visit http://www.SmartBalanceTransfers.com.
About Smart Balance Transfers
Founded in 2007, SmartBalanceTransfers.com provides consumers with in-depth analysis of credit card offers and a platform to research and compare cards before applying online. While the website's primary focus is the balance transfer market, Mr. Weber draws upon over seven years of industry experience to provide analysis of all segments of the credit card marketplace.
###