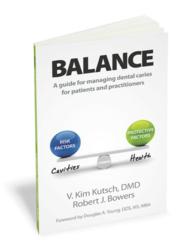 "Balance is an excellent guide for managing dental caries that belongs in each and every dental practice and should be read by any patient seeking a dental home or considering restorative treatment."
(PRWEB) September 27, 2012
Dental decay (caries) was recently reported by the CDC to be at epidemic levels in America's youth. It stated that 28% of children age 2-5 have decay in their baby teeth and 50% of our youth show signs of the disease before they reach the 5th grade; last year alone 52,000 school hours were lost. What is the long-term impact of this infection? Research is showing a significant link between the oral bacterial imbalance and systemic issues like heart disease.
Despite major advances in early decay detection, state of the art technologies, and new techniques; decay rates in this demographic continue to rise. The dental profession as well as the general public is at a loss, as current models of intervention are not working.
In response to patient and practitioner frustration, a comprehensive resource and 'how to' guide has been released. Authored by bio-chemist, inventor and practicing dentist for 30 years, Dr. Kim Kutsch, the book entitled Balance: A guide for managing dental caries for patients and practitioners, provides the answers we have been waiting for. Balance systematically walks the reader through a proven approach to risk assessment and treatment. Dr. Douglas A. Young, DDS, MS, MBA states: "Balance is an excellent guide for managing dental caries that belongs in each and every dental practice and should be read by any patient seeking a dental home or considering restorative treatment." The book speaks to both the dental professional and the patient in terms that are relevant and easy to understand.
Published and unpublished studies have shown that the protocols outlined in Balance can lower decay rates anywhere from 25% to 74% . This means for some patients who experience 10 new cavities a year can see that number drop below 3. While there is no silver bullet or quick fix to this complex problem, Balance provides a practical step-by-step guide on how to treat this destructive childhood disease successfully.
For more information or to get a copy today go to: http://www.balancebook.com
Copies can also be purchased in print at http://www.amazon.com or for the Kindle edition for $9.95 at http://amzn.to/UDMot6
References:
National Institute of Health, US Dept. of Health and Human Services, "Diagnosis and Management of Dental Caries throughout Life" 18, no. 1 (March 2001).
K. Nakano, H. Nemoto, R. Nomura, H. Inaba, H.Yoshioka, K Taniguchi, A. Amano, and T.Ooshima, "Detection of Oral Bacteria in Cardiovascular Specimens," Oral MicrobiolImmunol 24, no. 1 (2009): 64-68.
J.D.B Featherstone, J.M. White, C.I. Hoover, M. Rapozo-Hilo, J.A. Weintraub, R.S Wilson, L. Zhan, and S.A. Gansky, "A Randomized Clinical Trial of Anticaries Therapies Targeted According to Risk Assessment (Caries Management by Risk Assessment)," Caries Res 46 (2012): 118-129.