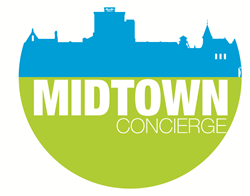 "Everyone has "too much to do and not enough time to do it all." HFH employees will now have the option of having the tasks on their to-do list completed by Midtown Concierge while they are at work." says Judy L. Foley.
Detroit, Michigan (PRWEB) August 12, 2014
For some of the busiest professionals in Detroit – the physicians, nurses and health care teams at Henry Ford Hospital – it's now easier to find work life balance with support to schedule an oil change, make dinner plans, buy gifts, get tickets to sporting and concerts events and complete other daily errands, all while at work.
Henry Ford Hospital has partnered with Midtown Detroit, Inc. and Balance Concierge to create Midtown Concierge, a service that works with local Midtown and City of Detroit businesses to provide goods and services to the hospital campus' 6,000 employees, often at a discounted rate.
Through Balance Concierge, Midtown Concierge offers personal assistance to hospital employees for routine tasks that often seem overwhelming when combined with a busy work and personal life.
The in-house service is free to Henry Ford Hospital employees; they only pay for the items or services requested.
"We feel very strongly that our hospital employees need a healthy work-life balance to be able to deliver the best possible care to our patients and their families," says John Popovich Jr., M.D., President and CEO of Henry Ford Hospital.
"Midtown Concierge is truly a great partnership in that it brings a sense of relief to our employees' busy schedules, while at the same time supporting and growing businesses in our community."
The idea for Midtown Concierge originated with Sue Mosey, President of Midtown Detroit, Inc., as a way to allow those who work in the city to explore the new, burgeoning businesses in Midtown, many of which they won't find in their hometowns.
"Whether you're living in Detroit or elsewhere, this new service makes it possible to play a role in the success of Midtown businesses, especially those who have little time during the workday to frequent the restaurants, shops and businesses in Midtown," says Mosey.
Midtown Concierge takes care of employees' to-do lists by:

Arranging services: Auto repair, pet supply delivery, dry cleaning
Making plans: Child care, vacation and reservations
Coordinating dinners: Healthy meals to go and catering options
Researching products and information: Consumer reports, online shopping and price comparisons
Ordering tickets, flowers and gifts: Concert, theater and sporting event tickets; flower and gift recommendations and delivery
Providing savings: Restaurants, salon and venue discounts throughout Midtown Detroit
Planning parties: Birthdays, graduations, wedding and anniversaries
How Midtown Concierge Works
Henry Ford Hospital employees can either visit the Midtown Concierge office located in the hospital, or call, email or submit an online request through a custom Midtown Concierge employee portal.
The Midtown Concierge team, stationed at Henry Ford Hospital, then goes to work to make appointments, order items and have the delivered, or gather information for the employee about a product or service.
Midtown Concierge is being piloted at Henry Ford Hospital, with the hope of rolling it out to other Henry Ford Health System facilities in Detroit.
To learn more about Balance Concierge, visit: http://balanceconcierge.com.
Explore the shops and services in Midtown Detroit at http://midtowndetroitinc.org/.
About Balance Concierge
Balance Concierge, based in Lansing MI was founded in April of 2008 and provides a special niche concierge service benefit for healthcare employees and physicians and helps differentiate patient and family experiences. Balance also specializes in providing support for improving hospital gift shop revenue through redesign and merchandising and enhances participation in wellness programs through its social platforms. Balance Concierge is led by founder and CEO Judy L. Foley.
###