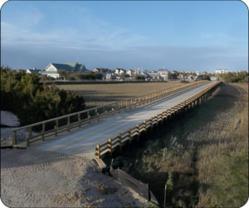 The bridge is the talk of the town and is a major deal on the island. It is absolutely beautiful and is a huge community asset.
Lutz, Florida (PRWEB) March 20, 2012
York Bridge Concepts (YBC) has completed a 520-foot timber bridge as part of a community enrichment project by the Village of Bald Head Island in North Carolina. Bald Head Island is known as one of the most sought after car-free and environmentally friendly destinations in the nation. The island boasts 14 miles of beach and 12,000 acres of protected land. The project consists of roadway improvements as well as construction of this two-way, timber bridge that crosses marshlands and connects the residential area to the harbor village. For more information, visit http://www.baldheadisland.com.
After five years of delay, work began in mid December, 2011 and finished in early March, 2012. "This project has literally been almost 10 years in the making, with our first contact being in 2005," explains Jim Henry, Director of Construction and Planning for Bald Head Island. "Because Bald Head Island has had to deal with so many factors like state agencies, coastal permits and other environmental considerations, building something as major as a 520-foot bridge is a big deal! Once we had all of our approvals and permits in 2008, the economy took a downturn. With a slight uplift in the economy, we were finally ready in 2011 to have York Bridge Concepts build our one-of-a-kind timber bridge." Henry concluded, "The bridge is the talk of the town and is a major deal on the island. It is absolutely beautiful and is a huge community asset."
Nine treated lumber trucks and six hardware deliveries of galvanized steel were transported to Bald Head Island for the construction of this mammoth timber bridge. Built on-site from sawn timber to finished product, this 5-ton capacity bridge was designed by York Bridge Concepts for two-way pedestrian traffic, including foot traffic, electric trams and bicycles. The bridge guides pedestrian traffic away from the commercial corridors of the island and, instead, directs pedestrians directly from their homes to the harbor village. Some of the outstanding features of this bridge include custom-designed guide rails and cable handrails which are accompanied by the bridge's finely crafted arch (camber) from end-to-end. James York, President of York Bridge Concepts, stated "At York Bridge it is important to view each design as an opportunity to create vertical and/or horizontal lines that make each bridge effortlessly flow across the environment."
This York bridge crosses environmentally sensitive marshlands. Therefore, York Bridge Concepts made it a top priority to address all of the environmental concerns of Bald Head Island. YBC used deck level construction (also known as top down construction) to build the bridge. During this process, the bridge is literally built from its own deck which eliminates the need for heavy equipment on the ground and reduces the "footprint" of the bridge itself.
After years of patiently waiting for the go ahead on Bald Head Island's bridge, YBC has created a one-of-a-kind, landmark bridge the perfectly ties into its environmentally-sensitive surroundings. In conclusion, Jim Henry stated that, "we [Bald Head Island] are thrilled about the bridge and the attention to detail that was taken. We were also extremely impressed with the professionalism of the YBC crew. We keep saying, 'three men and a backhoe. We can't believe that's all it took to build that bridge.'"
Follow YBC's Bridge projects on Facebook at http://www.facebook.com/yorkbridgeconcepts
About York Bridge Concepts
York Bridge Concepts, Inc. is the nation's largest on-site timber vehicular bridge builder. YBC works with industry-leading owners and developers on prestigious projects throughout the U.S. and Internationally, creating more than just a solution for crossing lakes, streams, creeks, wetlands or ravines. In this competitive real estate market, developers who want to ensure that their project stands apart from the competition use York Bridges to add value and create a feeling of exclusivity, warmth, and quality for their customers. Based in Lutz, Florida, with 28 years of experience, YBC has become well-known for their expertise and cutting-edge innovation in timber bridge design and on-site construction.
For more information, please visit York Bridge Concepts' website at http://www.ybc.com.