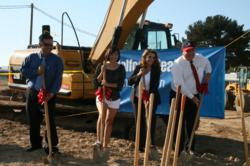 "This project sets an example that green schools are healthy schools and they enhance the learning environment."
San Diego, California (PRWEB) September 04, 2012
The Sweetwater Union High School District and Balfour Beatty Construction broke ground August 14 on new additions to Montgomery Middle School.
Balfour Beatty Construction is constructing a $20.7 million, 37,500 square foot facility consisting of five new buildings, two of which are two-story classroom buildings containing 18 classrooms total, along with a counseling center, library, cafeteria and covered lunch area. The project also requires the demolition of several existing buildings including classrooms, a cafeteria and library.
Designed by LPA Architects, the project includes several energy conservation techniques that will help the building achieve a LEED Platinum rating. Key features include:

Thermal displacement ventilation system that allows conditioned air in through the floor rather than the ceiling which uses less energy,
Low-flow restroom fixtures
Landscaped bio-swales that will treat storm-water runoff before it is released offsite
Drought-resistant native plants used for landscaping
Light-colored roofing and outdoor surfaces, reducing the heat-island effect by reflecting sunlight and heat.
The facility will exceed state energy efficiency standards by almost 40 percent, providing ongoing district savings in the form of lower energy costs.
"One of the priorities of the board members has been to not only build new schools, but to also build them in a way that benefits the environment and focuses on conservation," said Pearl Quinones, president of the Board of Trustees for the Sweetwater Union High School District. "This project sets an example that green schools are healthy schools and they enhance the learning environment," Quinones added.
Located at 1051 Picador Blvd. in San Diego, more than $19 million in Prop O funds are being invested to revitalize the campus. The remaining funds will come from the State School Facility Program. The project is expected to complete by summer 2013 and will welcome students for the 2013-14 school year.
The Balfour Beatty Construction team working on the project includes Tim Berry, vice president; Gordon Stanley, project manager; Phil Sager, field superintendent; Tyler Ridgley, project engineer and Wendy Anderson, project accountant.
# # #
About Balfour Beatty Construction
A leader in the U.S. commercial construction industry, Balfour Beatty Construction provides general contracting, at-risk construction management, and design-build services through more than 2,400 professionals nationwide. The company has been cited as a Top 10 Green Builder by Engineering-News Record for the past two years, and as one of the 100 Best Companies to Work For® by FORTUNE magazine for three years in a row. The company is part of London-based Balfour Beatty plc, a global leader in professional services, construction services, support services, and infrastructure investment, with more than $18 billion in annual revenues. To learn more about the company and its subsidiary—Howard S. Wright—visit http://www.balfourbeattyus.com.
About Sweetwater Union High School District
Founded in 1920, the Sweetwater District has grown to more than 40,000 students in grades 7 through 12 and more than 24,000 adult learners. The district's 32 campuses are located in the cities of Chula Vista, Imperial Beach, National City and San Diego, including the communities of Bonita, Eastlake, Otay Mesa, San Ysidro and South San Diego.
The Montgomery Middle School project is being funded through Proposition O. Approved by voters in November 2006, this $644 million in general obligation bond is being used to fund modernization and construction of Sweetwater District school campuses and facilities.