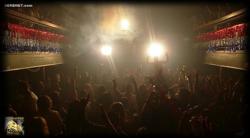 With great enthusiasm we are carefully preparing for this special night. We hope to once again make your experience one to remember. Due to popular demand and interest for this event, we highly encourage you to arrive early to avoid long lines at the
(PRWEB) June 21, 2011
Sam Cappas Productions is ready to official kickoff this year's summer party scene with a phenomenal 4th of July weekend. Saturday night, July 2nd, Edward Maya, Romanian born DJ, will perform at Congress Theater in Chicago along with Vika Jigulina, a Russian DJ. Popular hits such as "Stereo Love" and "Desert Rain" will have this energetic duo light up the stage of Congress Theater, making this the hottest European Concert of the summer. Sunday night, July 3rd, will be engraved in the books as the date of the year's biggest Balkan Event, Balkanika 2011. This prestigious event is produced by Sam Cappas Productions, an industry leader in Balkan entertainment since 1985. This very special event will take place Sunday, July 3rd 2011, in Excalibur, Chicago's Largest Nite Club. This exciting event will spread over three rooms, each bringing you the best Balkan hits. A lineup of 11 dj's shows our dedication to bring you a variety of quality music. A special bonus will be the inclusion of live music, Chicago's very own Impulse Bend. Table service is available for this very special event, call the excellent VIP hosts at Excalibur at 773.789.7372
"With great enthusiasm we carefully preparing for this special night. We hope to once again make your experience one to remember. Due to popular demand and interest for this event, we highly encourage you to arrive early to avoid long lines at the door. As a special thank you to our followers we are extending our Open Bar Special for an additional half an hour," Sam Cappas, founder of SCP.
The start of 2011 for SCP was BIG and BOLD. The 26th year in business started with the introduction of newest venue in Chicago-land area, The MID. The first SGM of 2011 was a great success with performances by DJ Spaz and DJ Manijak. This exclusive new club is reshaping Chicago night life with sold-out performance week in and week out. Such acts as Benny Benassi, Steve Aoki, DJ Chuckie, Kaskade, Robbie Riviera, Steve Angello and Axwell, made the MID a place to be in Chicago. This specialized music venue continues to bring you a star studded lineup with future acts such as TIESTO, Gabriel & Dresden and Boris.
What to expect at Balkanika 2011:

Main floor DJ lineup: Spaz, Ludak, Energizer, Manijak, Urban, Limit, Russi & Matey
Penthouse DJ lineup: Martin Stoy, Goran Hitman Knezevic, Bebe & Patso
Special Live Music Guest: Impulse Bend from Chicago
Open Bar from 9:30pm to 11pm (courtesy of Sam Cappas)
State of the art light show
Special giveaways
Dance show
Drink Specials: $150 Grey Goose Bottles and $6 Absolut Drinks
To purchase your tickets in advance please visit http://2011.Balkanika.us
Excalibur Chicago
632 N Dearborn
Chicago, IL 60654
9:30pm-4am | 21+
773.789.7372 (info/table reservations)
Sam Cappas Productions, Established in 1985,
Producer and Creator of the Original Serbian Greek Night.
Web:
balkanika.us
Follow us:
fb.hyperion.me
twitter.com/BalkanNight
# # #