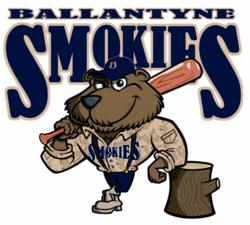 "This is an organization that thrives off of community involvement." - Chad Tracy - Part Owner Charlotte Native and Former Major League Player
Charlotte, NC (PRWEB) February 22, 2012
The Ballantyne Smokies, comprised of four owners, a front office and thirty (30) collegiate baseball players will call the beautiful Ardrey Kell High School baseball field its home this summer. Formerly known as the Fort Mill Stingers, the Smokies were founded as the Carolina Sox in 1994 and moved to Fort Mill in 2007. They played for a decade at Belmont Abbey College before moving their home games to Fort Mill High School, where they struggled to draw consistent crowds. "We had a hard time finding support in Fort Mill," head coach and part-owner John Spencer said. "We saw an opportunity to move to Ballantyne and we took it."
The Smokies recently were sold by Bill Capps, commissioner of the SCBL and who still will own 10 percent of the team. He sold the team due to health issues and to better perform his job as league commissioner, according to the SCBL. Spencer, John DeMaine and former major-leaguer Chad Tracy, a Charlotte native and West Mecklenburg High graduate, bought the team and will each own 30 percent.
Tracy played for the Arizona Diamondbacks, Florida Marlins and Chicago Cubs during his seven-year career, which he is still pursuing. The lifetime .278 hitter's best year came in 2005 with Arizona, where he hit 27 home runs, added 72 RBI's and hit .308.
"This is an organization that thrives off of community involvement." Tracy added. Smokies' players will be working hand in hand with the Morrison YMCA this summer. There are five baseball camps set up at the YMCA where the youngsters will be able to interact on a more personal basis with the players. CureSearch has also become a recent partner of the Smokies.
Local businesses will be a key factor in the Smokies' success. With attendance being the number one goal, the Smokies' front office has been working diligently to create leverage in the advertising market. "We have worked hard to add value for the sponsor." Spencer added. Rotating ads with personal analytical features are just a few ways their website will be sponsor friendly. Along with outfield wall signs and print media, there will be much opportunity for the local businesses to get their name out.
"We are really excited about the inaugural 2012 season" DeMaine says.
The Ballantyne Smokies will play a 42 game schedule throughout the months of June and July. With the players that are signed to this point, the team expects nothing less than to bring a championship to Ballantyne.
The Ballantyne Smokies are a collegiate summer wood-bat league with high level collegiate players from all over the country owned by John Spencer, John Demaine, Chad Tracy and Bill Capps. The inaugural season will be held in Ballantyne in Charlotte, NC. For more information visit the website or the facebook page here.
###