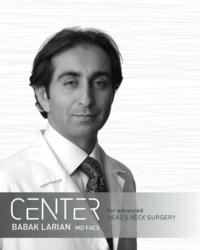 "This procedure is proven to be safe and effective for helping patients with chronic and debilitating sinusitis,"
Los Angeles, CA (PRWEB) November 22, 2011
Sinusitis is one of the most common health problems in the United States, affecting 37 million people. However, it is often a very difficult health problem to treat because many sinusitis sufferers do not respond to antibiotics. Previously, sinusitis surgery procedures where invasive and had a greater risk for complications. With the newer advancements in balloon sinuplasty, Dr. Larian is able to provide patients with a much easier procedure.
"This procedure is proven to be safe and effective for helping patients with chronic and debilitating sinusitis," said Dr. Larian. Before balloon sinuplasty was a treatment option, Dr. Larian would have to break and chip away at the bones surrounding the sinus cavity in order to widen the sinus cavity to allow for more air flow and drainage. Today, with the balloon sinuplasty procedure, he no longer needs to chip away at the bones. To perform this minimally invasive procedure, Dr. Larian inserts a flexible balloon catheter through the nose and into the targeted sinus. He then inflates the balloon in the blocked sinus passageway to open it up. "The balloon becomes hard and crushes the bone without damaging the functionality of the mucus membrane so the sinus cavity is enlarged with minimal pain," said Dr. Larian.
(First the balloon is inserted into the occluded sinus. Next the balloon is inflated and opens the sinus window. After the sinus is opened, the fluid drains out.)
Balloon sinuplastys are an in-office procedure and only take about 10 minutes to complete. Dr. Larian uses an anesthetic nasal mist to dull the pain of the procedure. Since this procedure is minimally invasive it lowers the risk for complications, decrease trauma to the sinuses and preserves the maximum natural functioning of the sinuses. This also results in a much quicker healing and recovery process.
If sinusitis is left untreated it can lead to severe damage. For example, the infection can spread to the skull and cause brain damage or even blindness. It is important for individuals who are suffering from chronic sinusitis to seek out a specialist to help alleviate the problem before it causes permanent damage.
Dr. Babak Larian, the Chairman and the Director of the CENTER for Advanced Head & Neck Surgery in Los Angeles, is a highly experienced and reputable, board-certified ear, head and neck surgeon, specializing in ear, nose and throat surgery. Dr. Larian is nationally renowned for his expertise in minimally invasive surgery techniques in the treatment of sinus, thyroid, parathyroid, salivary glands and throat disorders.
For more information about the CENTER please visit http://www.LarianMD.com.
# # #