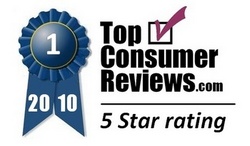 We're proud to receive TopConsumerReviews.com's highest rating
Overland Park, KS (Vocus) April 20, 2010
TopConsumerReviews.com, LLC recently awarded their highest five-star rating to Learn & Master, creator of the top-rated ballroom dancing lessons program.
"We're proud to receive TopConsumerReviews.com's highest rating," said Matt McWilliams, Manager for Learn & Master. "Our program represents a new era for Ballroom Dancing Lessons. Many Ballroom Dancing lessons products are low quality and outdated. Here at Learn & Master, we spend over $1 million developing each of our courses to make sure our customers receive clear, easy to understand training that's both effective and fun. We appreciate being acknowledged for our commitment to our high quality products."
Traditionally, learning to dance required years of expensive dance lessons from a studio across town, at scheduled times that interfered with other commitments. Thanks to the latest in technology, you can conveniently and cost effectively master ballroom dancing at home.
"Learn & Master uses trained professionals and videographers to create highly effective dance lessons," said Brian Dolezal, of TopConsumerReviews.com. "This company was founded to create comprehensive multi-media training tools for those who want to learn at their own speed and from the comfort of their own home. The quality of this product is significant and it makes a difference in the end result. The professionally created DVD videos arrive with a thorough instructional book and allow every student, from novice to advanced, become a more confident dancer."
To find out more about Learn & Master and other Ballroom Dancing companies, including reviews and comparison rankings, please visit the Ballroom Dancing Lessons category of TopConsumerReviews.com at http://www.topconsumerreviews.com/ballroom-dancing.
About Learn & Master
Legacy Learning Systems, maker of Learn & Master, is a headquartered in Nashville, Tennessee. Legacy Learning Systems was founded to produce truly comprehensive multimedia training courses for those who want serious instruction in the comfort of their own homes. We believe that learning should be fun, unintimidating and systematic, with each new skill building on the previous one. Our first courses were in music instruction, but other topics related to the arts, hobbies, career, and a variety of special interests are under development.
About TopConsumerReviews.com
TopConsumerReviews.com is a leading provider of independent reviews and rankings of hundreds of consumer products and services. From debt relief and online divorce, to home security systems and video spokesperson, TopConsumerReviews.com delivers in-depth product evaluations in order to make your purchasing decision easier.
###