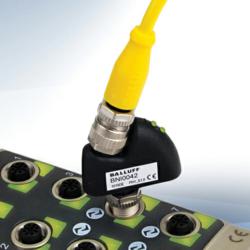 Florence, KY (Vocus/PRWEB) February 24, 2011
In most typical industrial I/O applications, 90% of the I/O count is discrete, leaving 10% of the I/O as analog. Most engineers have cost effective means to gather their discrete I/O, but the analog points add a level of difficulty. Balluff's line of IO-Link Analog Plugs provides a means to easily integrate analog I/O at an overall cost savings. By placing the IP67 Analog Plug between the standard analog field device and the Balluff IO-Link Master/Proxy, the plug converts the analog signal to a 14 bit resolution IO-Link signal, thus eliminating the need for an expensive multi-channel stand-alone IP67 or IP20 analog module. Further cost savings can be found by reducing the length of shielded cable, which is dependent on the grounding solution.
Most analog applications are covered with this offering of Analog Plugs, input and output versions are available in 4-20 mA and 0-10 volts.
Balluff now offers a full IO-Link I/O solution that provides a means to gather discrete and analog I/O on major industrial networks. For more information, visit: http://www.balluff.com/io-link
Editors: To download the high resolution press image, click here: http://www.balluff.com/Balluff/us/NewsChannel/Press+Releases/en/2011-02+IOLink+Analog+Plug.htm?pr=20110223IOLinkAnalogPlug
Balluff Inc., the U.S. subsidiary of Balluff GmbH, Neuhausen, Germany, is a leading manufacturer of a wide range of inductive, optical, capacitive and magnetic sensors as well as linear position transducers and ID systems. Balluff products for OEM and factory floor solutions are used to control, regulate, automate, assemble, position, and monitor manufacturing, assembly, and packaging sequences for industries including metalworking, automotive, plastics, material handling, wood processing, aerospace, electrical, and electronics.
Editors: please contact Kelly Panko at 1-800-543-8390 for clarifications and additional information e-mail kelly.panko(at)balluff(dot)com
Direct reader service inquiries to: Kelly Panko, Balluff Inc, 8125 Holton Drive, Florence, KY, Phone 1-800-543-8390, or http://www.balluff.com
In Canada only, contact Norman J. Clarke, President, Balluff Canada, 2840 Argentia Road, Unit # 2, Mississauga, ON L5N 8G4, Phone 1-800-927-9654 or Tel: 905-816-1494, 905-816-1411, E-mail: balluff.canada(at)balluff(dot)ca
###