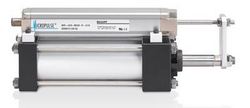 Florence, KY (Vocus) April 29, 2009
The BIW Pulsed-Inductive sensors from Balluff only look like traditional resistive linear potentiometers, however, unlike linear pots the BIW sensors use patented, non-contact technology to provide continuous, absolute, analog position feedback. Since there is no mechanical contact, wear is not an issue. And, best of all, these sensors are available at a price level equal to or lower than many linear potentiometers.
Like resistive linear pots, BIW Pulsed-Inductive sensors are available with analog voltage outputs (-10 to +10V or 0 to +10V). But unlike linear pots, these innovative linear position sensors are available with analog current outputs (0 to 20 mA or 4-20 mA) as well, without the need for external signal conditioning. This is important because analog current signals offer much better electrical noise immunity and allow for longer cable runs compared to analog voltage signals.
Balluff BIW Pulsed-Inductive linear position sensors are designed to be form-factor replacements for traditional resistive linear potentiometers, right down to the familiar sliding plunger. That means there is no need to "re-invent the wheel" in order to take advantage of this revolutionary technology. It also means BIW sensors are a perfect fit for linear feedback applications such as those found on plastic injection molding machinery, packaging machinery, hydraulic motion bases, and woodworking machinery. BIW sensors are also an ideal solution when low-cost, continuous position feedback is required on hydraulic or pneumatic cylinders.
For further information, visit: http://www.balluff.com/biw
See the BIW in action along with other Balluff sensors in our Packaging Video about automatic size changing on conveyors!
http://www.youtube.com/watch?v=yYAwH5osZjo&feature=channel_page
Download high resolution press images and see full press release online:
http://www.balluff.com/Balluff/us/NewsChannel/Press+Releases/en/2009-04+BIW+Press+Release.htm
Balluff Inc., the U.S. subsidiary of Balluff GmbH, Neuhausen, Germany, is a leading manufacturer of a wide range of inductive, optical, capacitive and magnetic sensors as well as linear position transducers and ID systems. Balluff products for OEM and factory floor solutions are used to control, regulate, automate, assemble, position, and monitor manufacturing, assembly, and packaging sequences for industries including metalworking, automotive, plastics, material handling, wood processing, aerospace, electrical, and electronics.
Editors: please contact Vestal Simms or Kelly Panko at 1-800-543-8390 for clarifications and additional information, or e-mail vestal.simms (at) balluff (dot) com, kelly.panko (at) balluff (dot) com
Direct reader service inquiries to:
Press Manager
Balluff Inc.
8125 Holton Drive
Florence, KY 41042
1.800.543.8390
http://www.balluff.com
In Canada only, contact Norman J. Clarke, President, Balluff Canada, 2840 Argentia Road, Unit # 2, Mississauga, ON L5N 8G4, Phone 1-800-927-9654 or Tel: 905-816-1494, 905-816-1411, E-mail: balluff.canada (at) balluff (dot) ca
# # #