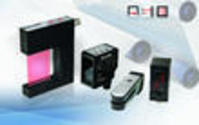 Florence, KY (Vocus) May 5, 2010
Balluff's latest family of photoelectric sensors, called EdgeMaster, is designed to bring a higher level of performance and reliability to the detection and monitoring of web edges or object edges. Skew, material shifts, object alignment, and web material drag or stretch are all typical problems facing today's high speed automated equipment, forcing production levels to be less than optimal. EdgeMaster sensors help you to detect these problems to reduce or eliminate them, increasing the output and lessening product changeover time.
Available in a variety of package sizes, EdgeMaster sensors come in four types. The BAV MA series, with a fixed dual optical axis edge detection design, provides two independent discrete outputs to show edge position change. The BGL C series is a photo array sensor that gives a proportional analog or dual discrete outputs based on the amount of light blocked by the edge of the material inside the sensors' viewing area, with a resolution of .08mm. The BOL 27 sensor projects a 150mm line of light over an edge against a reflective tape to provide an analog and discrete output for accurate position feedback. Finally, the BGL 21 is ideal for contrast mark or label detection in high speed web based applications.
For more information:
http://www.balluff.com/Balluff/us/NewsChannel/News/en/Edgemaster+photoelectric+sensors.ht?pr=edgemaster
Editors: See press release online and download high resolution press images:
http://www.balluff.com/Balluff/us/NewsChannel/Press+Releases/en/2010-04+EdgeMaster+Photoelectric+Sensors.htm?pr=Edgemaster
Balluff Inc., the U.S. subsidiary of Balluff GmbH, Neuhausen, Germany, is a leading manufacturer of a wide range of inductive, optical, capacitive and magnetic sensors as well as linear position transducers and ID systems. Balluff products for OEM and factory floor solutions are used to control, regulate, automate, assemble, position, and monitor manufacturing, assembly, and packaging sequences for industries including metalworking, automotive, plastics, material handling, wood processing, aerospace, electrical, and electronics.
Editors: please contact Vestal Simms at 1-800-543-8390 for clarifications and additional information, or e-mail vestal(dot)simms(at)balluff(dot)com
Direct reader service inquiries to: Kelly Panko, Balluff Inc, 8125 Holton Drive, Florence, KY, Phone 1-800-543-8390, or http://www.balluff.com
In Canada only, contact Norman J. Clarke, President, Balluff Canada, 2840 Argentia Road, Unit # 2, Mississauga, ON L5N 8G4, Phone 1-800-927-9654 or
Tel: 905-816-1494, 905-816-1411, E-mail: balluff(dot)canada(at)balluff(dot)ca
###