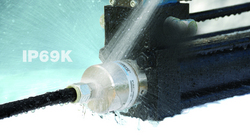 Florence, KY (Vocus) September 11, 2009
Real-world applications for linear position sensors can be challenging. High humidity, ambient temperature variations, high pressure wash down, and exposure to caustic chemicals can all take a toll on ordinary linear feedback sensors. Unfortunately, most of these products are also vulnerable in terms of environmental protection.
Fortunately, Balluff has a solution for demanding linear position feedback applications.
The new Micropulse® ProCompact linear position transducer is rugged, accurate, and protected against environmental hazards. The Micropulse ProCompact rod-style transducer incorporates field-proven, non-contact magnetostrictive technology into welded, hermetically-sealed stainless steel housing providing superior long-term reliability and service life compared to competing contact-based sensors such as linear or rotary potentiometers.
The ProCompact is ideal for the following types of applications: hydropower and other wet applications, railroad maintenance equipment, steel production, sawmill applications, or any other application involving high humidity, ambient temperature variations, and high pressure wash down.
The Micropulse ProCompact linear position transducer comes in a standard 3/4"-16 UNF (optional M18 x 1.5) mounting threads to allowing for the transducer to be installed into hydraulic or pneumatic cylinders. Right out of the box, the ProCompact is environmentally protected to IP68. For even more demanding applications, the threaded fitting on the ProCompact housing can accommodate a cable protection system, offering environmental protection up to IP69K making the Micropulse Procompact the ideal solution in harsh applications.
For further information, visit: http://www.balluff.com/procompact
Editors: Download the high resolution press image here:
http://www.balluff.com/Balluff/us/NewsChannel/Press+Releases/en/2009-09+Procompace+Transducer+Press+Release.htm
Balluff Inc., the U.S. subsidiary of Balluff GmbH, Neuhausen, Germany, is a leading manufacturer of a wide range of inductive, optical, capacitive and magnetic sensors as well as linear position transducers and ID systems. Balluff products for OEM and factory floor solutions are used to control, regulate, automate, assemble, position, and monitor manufacturing, assembly, and packaging sequences for industries including metalworking, automotive, plastics, material handling, wood processing, aerospace, electrical, and electronics.
Direct reader service inquiries to:
Press Manager
Balluff Inc.
8125 Holton Drive
Florence, KY 41042
1.800.543.8390
http://www.balluff.com
In Canada only, contact Norman J. Clarke, President, Balluff Canada, 2840 Argentia Road, Unit # 2, Mississauga, ON L5N 8G4, Phone 1-800-927-9654 or
Tel: 905-816-1494, 905-816-1411
###