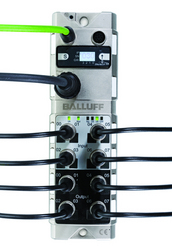 Florence, KY (Vocus) March 10, 2010
Balluff's new line of EtherNet/IP™ machine mount I/O blocks provides seamless communication right down to the sensors and actuators. With a reputation for durability and value, Balluff has designed and built a line of machine-mount I/O blocks that offers immediate cost savings with long term performance.
No other industrial network has seen a growth explosion like Industrial Ethernet. The rapid growth is fueled by the seamless communication from plant level down to the sensors and actuators. With high-speed, deterministic throughput and the proven reliability of the physical layer, Industrial Ethernet networks will continue to grow for years to come.
EtherNet/IP™ has become a popular network for connecting field devices to centralized control solutions from Allen Bradley™ and other suppliers. EtherNet/IP™ allows designers to seamlessly integrate a broad range of compatible connectivity products from many manufacturers.
Balluff's new line of EtherNet/IP™ includes twelve versions of machine-mount I/O blocks and an IP 67 unmanaged switch. These blocks have a low initial cost per point and are designed to save money over the life of the system with maximum uptime and easy maintenance.
Fast and easy IP addressing can be accomplished using BOOTP/ DHCP, through an IP67 IP Address Plug (IPAP), via a pushbutton display (100 series only), or web pages. Backlit for easy reading, the addressable Display shows all the octets of the IP address, subnet mask, and gateway address while push buttons allow for easy adjustment of any octet of the IP address, subnet mask, and gateway address. Detachable for rapid module replacement, the IP Address Plug (IPAP) stores the module's addressing information in a convenient quick-disconnect unit.
Certified by ODVA to ensure interoperability, these I/O blocks operate up to 100 Mbit/s speeds. The ethernet cordset attachment point uses a rugged metal threaded M12 D-coded port.
Watch our video series on YouTube about Balluff's new EtherNet/IP blocks: http://www.youtube.com/view_play_list?p=0573CC0E797397E5
Editors: Please use this link for attribution:
For further information, visit: http://www.balluff.com/us
Editors: Download high resolution press image and brochure online at:
http://www.balluff.com/Balluff/us/NewsChannel/Press+Releases/en/2010-03+EthernetIP+IO+Blocks.htm?pr=ethernetblocks
Balluff Inc., the U.S. subsidiary of Balluff GmbH, Neuhausen, Germany, is a leading manufacturer of a wide range of inductive, optical, capacitive and magnetic sensors as well as linear position transducers and ID systems. Balluff products for OEM and factory floor solutions are used to control, regulate, automate, assemble, position, and monitor manufacturing, assembly, and packaging sequences for industries including metalworking, automotive, plastics, material handling, wood processing, aerospace, electrical, and electronics.
Editors: please contact Kelly Panko at 1-800-543-8390 for clarifications and additional information e-mail kelly(dot)panko(at)balluff(dot)com
Direct reader service inquiries to: Kelly Panko, Balluff Inc, 8125 Holton Drive, Florence, KY, Phone 1-800-543-8390, or http://www.balluff.com
In Canada only, contact Norman J. Clarke, President, Balluff Canada, 2840 Argentia Road, Unit # 2, Mississauga, ON L5N 8G4, Phone 1-800-927-9654 or
Tel: 905-816-1494, 905-816-1411, E-mail: balluff(dot)canada(at)balluff(dot)ca
###