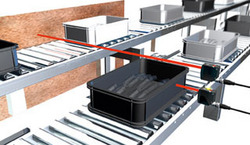 Florence, KY (Vocus) March 3, 2010
Users looking to standardize on a mid-sized block style photoelectric sensor need to search no further than the BOS 23K sensor family from Balluff. Featuring the conventional sensing modes of diffuse, retro-reflective, and thru-beam, the BOS 23K also includes background suppression sensors, thus making it suitable as a "go-to" family for all of your sensing needs.
Long sensing ranges for extended sensing ability
Accurate switching performance for precise positioning tasks
Highly visible red light for easy alignment
At-a-glance status indication LEDs, viewable from all sides
Two mounting options - holes or dovetail - for flexible sensor placement
Impact-resistant ABS housing with rotating connector suitable for many applications
Ideal for use in material handling and conveying applications, the BOS 23K photoelectric block sensor provides a great combination of high accuracy and long sensing range at a reasonable price. In a typical application for example, two BOS 23K diffuse sensors with background suppression are able to monitor different colored totes as they travel from one production station to another without false triggering on the background.
Editors: Please use this link for attribution:
For more information on Balluff photoelectric sensors, visit: http://www.balluff.com/photoelectric
Editors: See press release online and download high resolution press images:
http://www.balluff.com/Balluff/us/NewsChannel/Press+Releases/en/2010-03+BOS+23K+Press+Release.htm?pr=bos23k
Balluff Inc., the U.S. subsidiary of Balluff GmbH, Neuhausen, Germany, is a leading manufacturer of a wide range of inductive, optical, capacitive and magnetic sensors as well as linear position transducers and ID systems. Balluff products for OEM and factory floor solutions are used to control, regulate, automate, assemble, position, and monitor manufacturing, assembly, and packaging sequences for industries including metalworking, automotive, plastics, material handling, wood processing, aerospace, electrical, and electronics.
Editors: please contact Kelly Panko at 1-800-543-8390 for clarifications and additional information e-mail kelly(dot)panko(at)balluff(dot)com
Direct reader service inquiries to: Kelly Panko, Balluff Inc, 8125 Holton Drive, Florence, KY, Phone 1-800-543-8390, or http://www.balluff.com
In Canada only, contact Norman J. Clarke, President, Balluff Canada, 2840 Argentia Road, Unit # 2, Mississauga, ON L5N 8G4, Phone 1-800-927-9654 or
Tel: 905-816-1494, 905-816-1411, E-mail: balluff(dot)canada(at)balluff(dot)ca
###