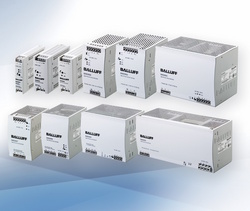 Florence, KY (Vocus) March 11, 2009
All industrial automation systems need reliable power - power that is clean, spike-free, and controlled to provide the amount of voltage and amperage required by the system. Balluff has introduced a new line of power supplies specifically designed to meet the needs of automation control suites.
The ten model line includes a wide range of 24Vdc models with single and three phase inputs. With output current ranges from 0.75A (18W) to 40A (960W), there is a size for most applications. If more power is needed multiple power supplies can be connected in parallel for additional current capacity. Other features include built-in advanced overload and overvoltage protection, load regulation to +/- 1%, ripple/noise less than 50mV on most models, adjustable outputs to compensate for differences in specific control needs, all models are din rail mountable. Mean time between failure for all are over 210,000 hours/24 years while operating at published specifications.
Balluff networking manager John Harmon comments, "Balluff has a long tradition of producing reliable quality automation control products. This tradition continues with this new line of power supplies. They add another piece to Balluff's total control solution, from standard inductive and photoelectric sensors and connectivity, to RFID and industrial network solutions, including our new line of I/O modules for Profibus, DeviceNet, and EtherNet I/P networks. These power supplies were designed by Balluff with control products in mind, so you can be sure they will integrate perfectly with your specific control solution."
Download high resolution press image:
http://www.balluff.com/NR/rdonlyres/917F342B-7D46-48E9-8B3B-6615B6A4CD76/0/200903_PowerSupplies_300dpi.jpg
See full press release online:
http://www.balluff.com/Balluff/us/NewsChannel/Press+Releases/en/2009-03+Power+Supplies+Press+Release.htm
Editors: Please use this link for attribution:
For further information, visit: http://www.balluff.com/powersupplies
Balluff Inc., the U.S. subsidiary of Balluff GmbH, Neuhausen, Germany, is a leading manufacturer of a wide range of inductive, optical, capacitive and magnetic sensors as well as linear position transducers, ID systems, and full network solutions. Balluff products for OEM and factory floor solutions are used to control, regulate, automate, assemble, position, and monitor manufacturing, assembly, and packaging sequences for industries including metalworking, automotive, plastics, material handling, wood processing, aerospace, electrical, and electronics.
Editors: please contact Vestal Simms, (1-800-543-8390) for clarifications and additional information, or e-mail to vestal.simms (at) balluff (dot) com
Direct reader service inquiries to:
Press Manager
Balluff Inc.
8125 Holton Drive
Florence, KY 41042
1.800.543.8390
http://www.balluff.com
In Canada only, contact Norman J. Clarke, President, Balluff Canada, 2840 Argentia Road, Unit # 2, Mississauga, ON L5N 8G4, Phone 1-800-927-9654 or
Tel: 905-816-1494, 905-816-1411, E-mail: balluff.canada (at) balluff (dot) ca
# # #