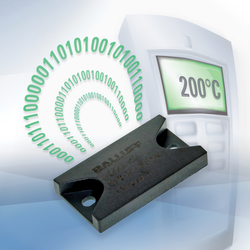 Florence, KY (Vocus) April 1, 2010
Balluff has created a new industrial radio frequency identification (RFID) tag designed to withstand temperatures as high as 200°C (392°F) for limited exposure times. This very compact tag, only 40mm x 22mm x 6.5mm in size, is designed to be easily mounted in as many locations as possible and complies with the open ISO 15693 standard. These features offer greater hardware flexibility, while providing the highest data reliability that Balluff RFID users are accustomed to.
The high-temperature tag is commonly used for applications where users need to track parts and get traceability of the manufacturing process. This is needed for quality improvement and error proofing, as well as maximizing the reusability of product carriers like pallets or conveyor segments. A typical application is painting and coating operations where heat sealing, oven drying, or curing may occur. In this type of application, the data carriers are not active during high-temperature exposure and therefore data is reliably preserved. Reading and writing data usually takes place outside of the high-temperature areas at temperatures of 70°C (158°F) or under. The tag also allows unlimited reading and writing of data with user memory up to 112 numerical bytes or ASCII characters.
Integrating all popular communication protocols, this high-temperature RFID data carrier can communicate with all popular control platforms. Compatible read/write heads are available in many sizes and configurations to fit most applications.
For more information:
http://www.balluff.com/Balluff/us/ProductsChannel/Product+Detail/en/ProductDetail.htm?ProductID=BIS+M-107-03%2fL-H200&ProductGroupGuid=%7b6439C95E-3739-4080-84C9-E0A15CF0E97F%7d
Editors: See press release online and download high resolution press images: http://www.balluff.com//Balluff/us/NewsChannel/Press+Releases/en/2010-03+High-Temperature+RFID+Tags.htm?pr=hightemptag
Balluff Inc., the U.S. subsidiary of Balluff GmbH, Neuhausen, Germany, is a leading manufacturer of a wide range of inductive, optical, capacitive and magnetic sensors as well as linear position transducers and ID systems. Balluff products for OEM and factory floor solutions are used to control, regulate, automate, assemble, position, and monitor manufacturing, assembly, and packaging sequences for industries including metalworking, automotive, plastics, material handling, wood processing, aerospace, electrical, and electronics.
Editors: please contact Vestal Simms at 1-800-543-8390 for clarifications and additional information
Direct reader service inquiries to: Kelly Panko, Balluff Inc, 8125 Holton Drive, Florence, KY, Phone 1-800-543-8390, or http://www.balluff.com
In Canada only, contact Norman J. Clarke, President, Balluff Canada, 2840 Argentia Road, Unit # 2, Mississauga, ON L5N 8G4, Phone 1-800-927-9654 or
Tel: 905-816-1494, 905-816-1411
# # #