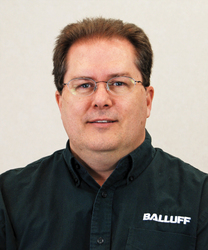 Florence, KY (Vocus) March 31, 2010
Sensor Technology is a new blog dedicated to the successful use of sensing products to prevent downtime, eliminate errors, and improve the throughput of industrial equipment.
According to Henry Menke, blog founder and Balluff Product Manager, "A lot of the readily available information regarding the selection and application of industrial sensor technology comes from manufacturers' product catalogs and websites, and a large amount of this information has a commercial appeal to it. What can sometimes get lost is a more thorough discussion and exploration of the important technical aspects of sensor selection and use. We're excited about the new Sensor Technology blog because it gives us a more open forum to delve into the technology and applications of sensor products in general, without the need to communicate any particular commercial message."
The Sensor Technology blog will have several expert authors contributing posts and commenting on many different technologies such as photoelectric, inductive, capacitive, ultrasonic, and magneto-resistive proximity sensors. Linear position sensing technologies will also be discussed including magnetostrictive linear position transducers, pulsed-inductive position transducers, linear and rotary magnetic encoders, inductive analog sensors, linear inductive analog transducers, and linear magneto-inductive position sensors.
Menke adds, "One of the coolest things about being in the sensor business is just how many different industries and applications we get involved with when applying sensor technologies. We have seen so many ways that these products can be used (sometimes we see surprisingly innovative approaches) that we're looking forward to sharing those experiences and techniques with our readers, who may be able to pick up some really useful, cost-saving, and productivity-enhancing tips. We're also anxious to see what kinds of questions and tips that our readers have to share back with us in the comments section."
To read Balluff's new Sensor Technology Blog, visit: http://sensortech.wordpress.com/
To learn more about Balluff sensors, visit: http://www.balluff.com/Balluff/us/HomeChannel/
Editors: See press release online and download high resolution press images: http://Balluff/us/NewsChannel/Press+Releases/en/2010-03+Balluff+Sensor+Technology+Blog.htm?pr=sensorblog
Balluff Inc., the U.S. subsidiary of Balluff GmbH, Neuhausen, Germany, is a leading manufacturer of a wide range of inductive, optical, capacitive and magnetic sensors as well as linear position transducers and ID systems. Balluff products for OEM and factory floor solutions are used to control, regulate, automate, assemble, position, and monitor manufacturing, assembly, and packaging sequences for industries including metalworking, automotive, plastics, material handling, wood processing, aerospace, electrical, and electronics.
Editors: please contact Vestal Simms at 1-800-543-8390 for clarifications and additional information
Direct reader service inquiries to: Kelly Panko, Balluff Inc, 8125 Holton Drive, Florence, KY, Phone 1-800-543-8390, or http://www.balluff.com
In Canada only, contact Norman J. Clarke, President, Balluff Canada, 2840 Argentia Road, Unit # 2, Mississauga, ON L5N 8G4, Phone 1-800-927-9654 or
Tel: 905-816-1494, 905-816-1411
###