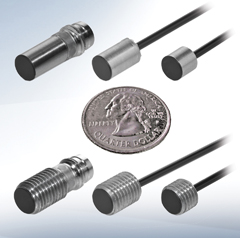 Florence, KY (Vocus/PRWEB) March 30, 2011
With space at a premium, machine builders are always looking for ways to fit more components in smaller areas both on the machine and in the control panel. Balluff now offers the shortest sensor in the world that does not require an amplifier thus saving valuable panel space. The SuperShorty® inductive sensor will fit into a space as short as 6mm allowing it to fit in the tightest of spaces.
Balluff's SuperShorty® models offer the capability to install sensors directly into grippers or fast moving machinery, with frequency ratings up to 3 kHz, such as pick and place machinery – without adversely affecting their performance size or weight. Although small in size and light in weight, some models weigh in at a mere 0.7 g, yet they still have all the features of standard size sensors. All models are reverse polarity protected, short circuit protected, IP65 or IP67 rated and have a current capacity of 150 mA.
The SuperShorty is available in three housing styles: 6.5 mm smooth metal, M8 threaded stainless steel, and 6.5 mm plastic – all offering maximum flexibility in virtually any micro sized application. The smooth or knurled plastic housing offers the user the ability to install the sensor by press fit or glue rather than mounting hardware or tapped holes. With 90º cable exits, the sensors can also be used in the smallest spaces while eliminating cable bend issues.
SuperShorty inductive sensors with 1.5 mm sensing range are available in both PNP and NPN and both normally open and normally closed versions. Connection options include cable out, M8 quick disconnect and pigtail versions with M8 connectors.
Let Balluff help you get out of those tight situations with our one of kind SuperShorty inductive sensors.
For more information on SuperShorty inductive sensors visit: http://www.balluff.com/SuperShorty.
Editors: To download the high resolution press image, click here:
http://www.balluff.com/Balluff/us/NewsChannel/Press+Releases/en/2011-03+Supershorty.htm?pr=20110329SuperShorty
Balluff Inc., the U.S. subsidiary of Balluff GmbH, Neuhausen, Germany, is a leading manufacturer of a wide range of inductive, optical, capacitive and magnetic sensors as well as linear position transducers and ID systems. Balluff products for OEM and factory floor solutions are used to control, regulate, automate, assemble, position, and monitor manufacturing, assembly, and packaging sequences for industries including metalworking, automotive, plastics, material handling, wood processing, aerospace, electrical, and electronics.
Editors: please contact Kelly Panko at 1-800-543-8390 for clarifications and additional information e-mail kelly(dot)panko(at)balluff(dot)com
Direct reader service inquiries to: Kelly Panko, Balluff Inc, 8125 Holton Drive, Florence, KY, Phone 1-800-543-8390, or http://www.balluff.com
In Canada only, contact Norman J. Clarke, President, Balluff Canada, 2840 Argentia Road, Unit # 2, Mississauga, ON L5N 8G4, Phone 1-800-927-9654 or
Tel: 905-816-1494, 905-816-1411, E-mail: balluff(dot)canada(at)balluff(dot)ca
# # #