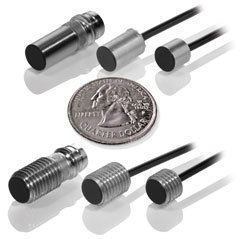 Our new SuperShorty line opens up design possibilities that have yet to be imagined
Florence, KY (Vocus) April 28, 2009
Balluff has developed a new family of exceptionally short inductive proximity sensors that open up new frontiers for machine designers. Intended primarily for OEM applications, these ultra-short sensors will help fuel the drive toward more compact machinery. Balluff SuperShorty® sensors can be installed into cramped places where inductive sensors simply couldn't fit before. Their extremely low mass enables abrupt acceleration and deceleration on highly dynamic, fast-moving equipment without adding excessive inertial load.
The shortest fully-integrated inductive sensors on the market, SuperShorty sensors are specifically designed for high speed pick-and-place equipment, miniature grippers, linear slides, miniature valves, compact actuators, and most other highly compact, precision mechanisms.
"Our new SuperShorty line opens up design possibilities that have yet to be imagined," says Henry Menke, Product Marketing Manager. "These sensors are so small that OEM engineers now have free reign to integrate sensing functionality in areas that previously couldn't accommodate any conventional sensor. For example, SuperShorty sensors have such small dimensions and low mass that they can be placed directly into a gripper finger without adversely impacting its size or weight. As rugged inductive sensors, they can survive in close proximity to industrial processes where shock, vibration, and liquid or particulate contamination would quickly take optical sensors out of action. With stainless steel bodies and a protection rating of IP67, we're really breaking new ground here for sensor miniaturization."
According to Product Specialist Jeff Himes, SuperShorties are available in 6.5 mm smooth and M08 threaded housings. Pre-wired cable models are available in two lengths: 10mm and an amazingly short 6mm version, while connectorized models are only 18 mm long. All have a nominal 1.5 mm sensing range.
"The sensing electronics are fully integrated into the miniature housings," says Himes, "so no bulky external amplifiers are required. Despite the SuperShorty sensors' extremely small size, their electrical outputs are fully protected against short circuits and polarity reversal - plus they have a current rating of 150 mA."
For further information, visit: http://www.balluff.com/supershorty
Download high resolution press images and see full press release online:
http://www.balluff.com/Balluff/us/NewsChannel/Press+Releases/en/Super+Shorty+Press+Release.htm
Balluff Inc., the U.S. subsidiary of Balluff GmbH, Neuhausen, Germany, is a leading manufacturer of a wide range of inductive, optical, capacitive and magnetic sensors as well as linear position transducers and ID systems. Balluff products for OEM and factory floor solutions are used to control, regulate, automate, assemble, position, and monitor manufacturing, assembly, and packaging sequences for industries including metalworking, automotive, plastics, material handling, wood processing, aerospace, electrical, and electronics.
Editors: please contact Vestal Simms or Kelly Panko at 1-800-543-8390 for clarifications and additional information, or e-mail vestal.simms(at)balluff.com, kelly.panko(at)balluff.com
Direct reader service inquiries to:
Press Manager
Balluff Inc.
8125 Holton Drive
Florence, KY 41042
1.800.543.8390
http://www.balluff.com
In Canada only, contact:
Norman J. Clarke
President, Balluff Canada
2840 Argentia Road, Unit # 2
Mississauga, ON L5N 8G4
1-800-927-9654 or Tel: 905-816-1494, 905-816-1411
balluff.canada(at)balluff.ca
###