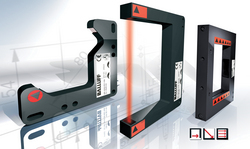 Florence, KY (Vocus) March 25, 2009
Balluff's UltraFrame™ series is the latest in self-contained thru-beam sensor technology and is designed to solve problems many other sensors cannot. Offering reliable performance in an innovative package, these sensors are the first ones to use in error-proofing, process monitoring, and general automation tasks in a number of environments. With the broadest selection of sizes, shapes, and light sources available today, there is an UltraFrame sensor waiting to provide a solution to your application that will save you time, money, and headaches.
The UltraFrame sensors' one piece housings contain both emitter and receiver elements with pre-aligned optics, providing easy installation and an end to misalignment nuisances. This means no more fiber optic cable hassles or routing of multiple power cords. On-board sensitivity and light/dark operation controls provide for easy adjustment to your process.
Available in four basic frame designs, these sensors have multiple sizes to choose from. Up to four application-specific light sources are also available to suit your design requirements, including: visible red (easy set up), pinpoint visible red (higher precision), visible red laser (highest precision), and high-power infrared (burns through accumulated dirt). With this level of flexibility, UltraFrame sensors are simply the ones to use first.
Watch a Balluff UltraFrame sensor in a gripper application. http://www.youtube.com/watch?v=T7FhJeKlaYE&feature=channel_page
Editors: Please use this link for attribution:
For further information, visit: http://www.balluff.com/ultraframe
Download high resolution press images and see full press release online: http://www.balluff.com/Balluff/us/NewsChannel/Press+Releases/en/2009-03+UltraFrame+Press+Release.htm
Balluff Inc., the U.S. subsidiary of Balluff GmbH, Neuhausen, Germany, is a leading manufacturer of a wide range of inductive, optical, capacitive and magnetic sensors as well as linear position transducers, ID systems, and full network solutions. Balluff products for OEM and factory floor solutions are used to control, regulate, automate, assemble, position, and monitor manufacturing, assembly, and packaging sequences for industries including metalworking, automotive, plastics, material handling, wood processing, aerospace, electrical, and electronics.
Editors: Please contact Vestal Simms or Kelly Panko at 1-800-543-8390 for clarifications and additional information, or e-mail vestal.simms (at) balluff (dot) com, kelly.panko (at) balluff (dot) com
Direct reader service inquiries to:
Press Manager
Balluff Inc.
8125 Holton Drive
Florence, KY 41042
1.800.543.8390
http://www.balluff.com
In Canada only, contact Norman J. Clarke, President, Balluff Canada, 2840 Argentia Road, Unit # 2, Mississauga, ON L5N 8G4, Phone 1-800-927-9654 or Tel: 905-816-1494, 905-816-1411, E-mail: balluff.canada (at) balluff (dot) ca
###