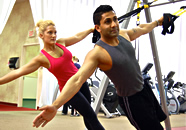 We've had hundreds of Bally members coming in over the weeks since the transitions and closings
West Berlin, N.J. (PRWEB) December 30, 2011
When Bally Total Fitness announced the sale of 171 of its clubs to former rival LA Fitness in November, the news came as an unpleasant surprise to Bally members in New Jersey, where Bally's five facilities were among those affected – with two closing and three transitioning into LA Fitness clubs. Although LA Fitness agreed to honor Bally memberships, many disenfranchised Bally members considered the locations of the clubs too inconvenient to be compliant with their fitness regiment.
Enter Future Fitness. The locally owned business operates six centers throughout New Jersey – two of which are near the closed Bally locations – and is inviting former Bally members to come see what they have to offer. Company president Scott Caris says the advantages to membership in Future Fitness include individualized sessions by nationally certified personal trainers and exercise physiologists, a wide variety of state-of-the-art equipment, free fitness classes, a supervised nursery with video observation and strict standards of cleanliness.
"We've had hundreds of Bally members coming in over the weeks since the transitions and closings, and they see the difference as soon as they walk into our clubs," says Caris. "We are a locally owned business managed daily by the owners, which results in a focus on detail and a commitment to helping our members achieve their personal fitness goals. We're part of this community and know our members. A national franchise can't make the same kind of connection. We're proud to have the lowest dropout rate in America."
Caris also reports traffic to the Future Fitness website, http://www.futurefitnesscenters.com, has increased by more than 25 percent since the Bally transition.
Says Caris, "We want all former Bally members who feel blindsided by the sudden change to know that Future Fitness is here for them, and ready to work with them to achieve and maintain an even healthier lifestyle than ever."
About Future Fitness
Future Fitness has been operating fitness centers for over 40 years. New Jersey clubs are located in Berlin, Cherry Hill (2), Mt. Laurel, Mullica Hill and Turnersville. All centers provide members with free nationally certified personal trainers for one hour per month, nutritional counseling, 85 group fitness classes per week, 12 lines of state-of-the-art equipment, free TV or Internet access on all cardio machines and supervised nursery observable on TV monitors.
###