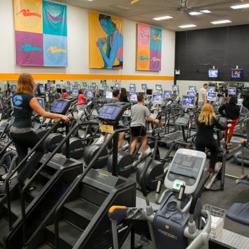 Our number-one marketing channel is member referrals.
Bala Cynwyd, PA (PRWEB) December 30, 2011
The sale of 171 Bally Total Fitness clubs nationwide to LA Fitness in November left many members unpleasantly surprised as some facilities transitioned into LA Fitness clubs, and others were closed permanently. However, the exit of these locations has opened opportunities for regionally owned centers, like AFC Fitness, to increase membership by emphasizing personal attention and a strong commitment to customer satisfaction.
Pennsylvania-based AFC Fitness is now welcoming former Bally members to its four locations, which includes a center in New Jersey. Known throughout the area as "A Philly original," AFC Fitness bases its reputation upon knowledgeable staff members dedicated to helping members achieve their fitness goals, state-of-the-art facilities that accommodate the full range of fitness activities and up-to-date, well-maintained equipment.
Since the closing of two Bally facilities near AFC Fitness locations, company president Matt Littman reports a significant increase in prospective new members.
"We've seen hundreds of Bally members in the past 30 days," Littman says. "Many of these people are ready for a change – a club with a different feel."
That "different feel" includes such features as the Cardio-Theater – outfitted with all the equipment essential to an optimum cardiovascular workout – certified personal trainers, classes, full-sized indoor basketball courts, a café/juice bar, supervised child care and many other amenities. Going beyond the range of offerings of most fitness clubs, AFC Fitness' counterpart, AquaHab Physical Therapy, provides advanced aquatic and land therapies for those requiring physical rehabilitation.
Littman reports that he has a lot of help in reaching out to former Bally members.
"Our number-one marketing channel is member referrals. We take care of our members, and they tell their friends. It's a simple formula for success that we've been practicing for 20 years. We enjoy welcoming our new members as we introduce them to a whole new level of potential for reaching their fitness goals."
About AFC Fitness
Founded in 1991, AFC Fitness is one of the leading family-owned health clubs in the greater Philadelphia area. The full-service health club combines the complete range of fitness and exercise equipment and facilities with professional trainers, personally tailored programs, and group health and fitness classes. For more information, visit http://www.afcfitness.com.
###